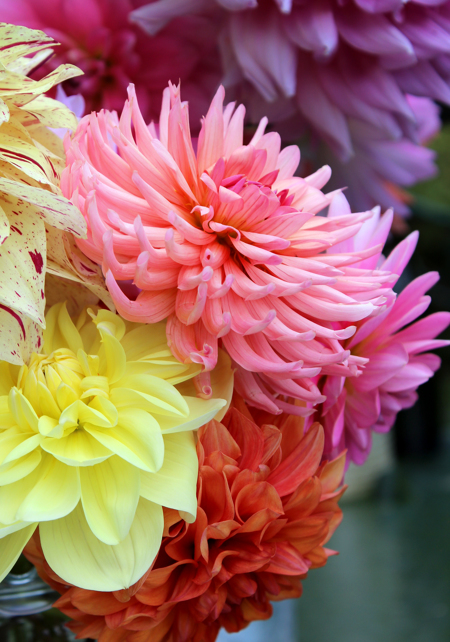 "Yes indeed," wrote Rolf Reisgies, in the March 2018 Bulletin of the American Dahlia Society. "Nothing to it!
You may remember we reported on growing dahlias in buried pots a couple of years ago, but Ralph grows a LOT dahlias this way so we thought you might like to hear what he has to say about it.
After experimenting with a few the year before, Ralph planted all 200 of his dahlias in one-gallon pots in 2016 and 2017. He potted them up indoors so they'd be sprouted and growing before he planted them in the ground of his Wisconsin garden in early June.
Most grew and bloomed normally. In fall after the first frost, he writes, "we chopped off the plants with the machete, waited a few days for things to dry up, and lifted the pots. The difference in the physical work is amazing! One poke with the spade – done."
Ralph says the tubers in the pots grow four different ways: "Some develop perfectly normal tubers. Some pots have no tubers at all, only measly roots – onto the compost pile. Some very large tubers grow inside and outside the pot and we chop them off. And some have one massive bundle ... [of] tightly wound-up tubers filling the entire pot" which sometimes even "busts the pot to pieces."
Ralph leaves them all in their pots for winter storage, which means "there's no washing and no dividing in the traditional sense."
In spring, he empties the pots, "if only to see how they survived the winter. Maybe 15% shrivel up. Most of the others call for an executive decision: Those with only small tuber bundles go right back into the pot. If there's a substantial bundle, chop it once or twice" and you're good to go.
So doesn't that sound easy? If you try it, please let us know how it works for you and if you have any additional tips. We always love learning from our customers!
Read May's News, Alerts, & Quotation.