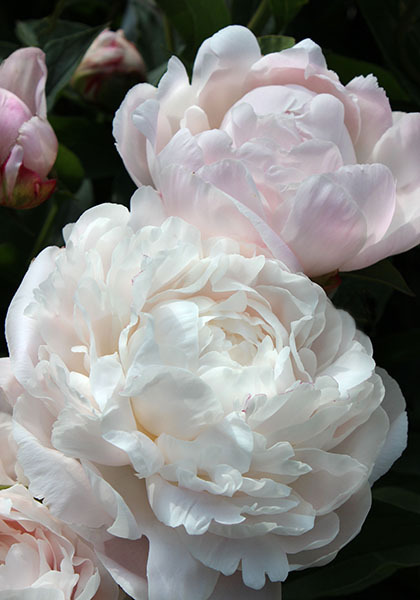 Until a few years ago I don't think I'd ever seen a rabbit in my garden here in the center of Ann Arbor, but now they're everywhere. They devoured my glory-of-the-snow this spring, and my neighbor says they're why so few of our self-sowing larkspur bloomed this summer.
Peonies, however, are not one of their favorites, according to UK nurserywoman Claire Austin who's been growing a huge collection of them ever since her father, the famed rose breeder David Austin, gave them up for roses in the 1980s.
"Did you know that peonies are rabbit-proof?" she writes in the May 2018 issue of Country Living. "If you have rabbits that like nothing better than to nibble from your borders, get planting peonies! Rabbits do not like the taste . . . and won't be tempted to snack on their roots, stems or blooms."
But Claire gardens in Wales, and we're wondering if what she says is also true for American rabbits. A few stalks of my peonies were chewed on for the first time this year, and I blamed the rabbits. It was minor damage, but I'm still wondering – do the rabbits in your garden leave your peonies alone?