Welcome to Old House Gardens!
We're proud to be America's only mail-order source devoted entirely to heirloom bulbs, many available nowhere else, and an international leader in the preservation of these fabulous relics.
Our Mission:
Save the Bulbs!
We search the world for great old bulbs that are at risk, we research their histories, we recruit small farmers to grow them (and grow a few ourselves in our Ann Arbor micro-farms), and then we share them with gardeners across America through our mail-order catalog and website. We strive to deliver the very best quality bulbs and to serve our customers so well that they count us as partners and friends.
Our Humble Beginnings
It all started with the 'Prince of Austria'. Our founder, landscape historian Scott Kunst, had been collecting antique plants for years, and this red-orange tulip was one of his favorites. Dating to 1860, it's both impressively perennial and deliciously fragrant. When the last North American source dropped it, Scott was dismayed — and motivated. "It was just too great a tulip to let it go extinct," he says. So in 1993 he mailed his first catalog — three sheets of paper photocopied at Kinko's — to 500 people. "Strangers sent me hundreds of dollars in the mail," he still marvels, and Old House Gardens - Heirloom Bulbs was born.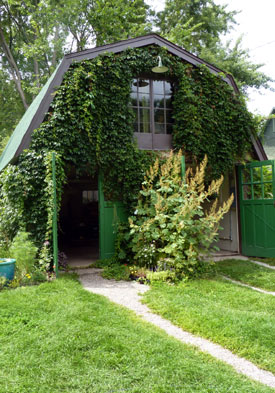 Our Old Barn and Award-Winning Office
We've grown a lot since then, but we're still tiny. In fact, until recently we worked out of Scott and his wife Jane's 1889 Queen Anne house in Ann Arbor's Old West Side historic district. When that got to be MUCH too cramped, we renovated the upstairs of their barn-like, Depression-era garage and moved in there. We've always shipped out of the ground floor, so now we're all together out in the "barn," and though it's still a bit cramped and far from fancy, we're loving it — and we won a preservation award from the Ann Arbor Historic District Commission! Take a look here.
Our New Path: Urban Micro-Farming
After years of fruitlessly searching for a small farm that was close enough and cheap enough for us to move to, in 2008 we re-visioned our future and chose a different path. Inspired by our friends at Detroit-based Urban Farming, we decided to expand our efforts to turn under-used land in the center of Ann Arbor into micro-farms for heirloom bulbs.
We actually started doing this many years ago when we noticed our neighbor Mark's abandoned vegetable garden and asked if we could plant a few bulbs there. He agreed, loved the results, and kept asking us to plant more till now our trial garden fills almost every inch of his sunny backyard.
Since then we've dug up, added tons of compost, and planted four more micro-farms within a few blocks of our office, and we're looking for more.
Of course we'll still get most of our bulbs from our growers overseas and the 22 small farmers we work with in the US (see below). But urban farming allows us to save more bulbs and grow our business while helping to green the planet.
Bulbs from America's Small Farmers
If you order from a catalog based in, say, Virginia, Connecticut, or Wisconsin, you may think you're getting bulbs grown in those states. But no! Nearly 99% of all bulbs from most other US bulb catalogs are imported from the Netherlands. Which makes us a bit weird, because virtually all of our peonies, iris, daylilies, and dahlias, 75% of our glads, and a third or more of our daffodils and "diverse" come to us from 21 small growers in 15 states. We love working with these folks, men and women in Texas, California, Michigan, Oregon, Washington, Iowa, Missouri, Mississippi, North Carolina, Illinois, Louisiana, Pennsylvania, Maine, and Florida who are as passionate about bulbs, quality, and preservation as we are. We do get a lot of great bulbs from growers in the Netherlands and England, but by working with American growers, too, we're able to offer you fresher bulbs, better adapted to US conditions, of varieties you can't get anywhere else – and together we're supporting America's family farms. It may be more complicated and expensive this way, but we think it's worth it!
Our Incredible Crew
Some of the best people in the world work at Old House Gardens.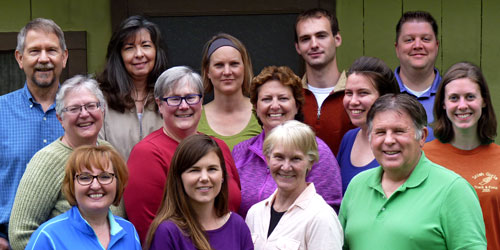 Vanessa Elms is our VP for Bulbs (and a proud Michigan State horticulture grad).
Justin Hunt is our VP for IT (and a former Marine who loves making us more efficient).
Rita Bailey is our Operations Manager (Everyone should have a mom like Rita.)
Mike Franklin is our Outreach Manager. (Ask him about his backyard "belvedere.")
Miriam Hitchcock is our Farm manager (and a whiz on the ukelele).
Toby is our Good Dog. (Rescued from the streets, he's a friendly little rat terrier who literally runs to work here every morning.)
We're also blessed with many wonderful workers who help us during our busy shipping seasons. Our spring 2016 crew was especially terrific and included Elise Aikman, Kate Bartelmo-Guenther, Doug Dick, Mary Douglass, Ellie Harrington, Amelia Hefferlin, Rebecca Mills, Lila Mitchell, Annie Oxner, Kathy Righter, and Julie Seagraves. Yea, team!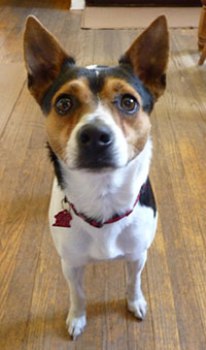 Our Fearless Leader, Scott Kunst
Scott has been gardening since he was seven — a family snapshot shows him with his first two radishes — and he traces his passion for the past to his childhood love of dinosaurs. After a degree from Columbia University and a year in Athens, Greece, Scott returned to Michigan to teach school. His first house, an 1870s fixer-upper, led to an epiphany. "I found a single white peony in the yard and some tiger lilies, and suddenly I realized that it wasn't just my yard. Gardeners before me had loved it, too."
Wanting to know more, he ended up getting a masters degree in historic preservation and in 1983 he started working as a landscape historian, helping museum sites and home-owners research and restore their grounds. An avid collector of heirloom plants, Scott launched Old House Gardens - Heirloom Bulbs in 1993.
Scott has taught landscape history and preservation at Eastern Michigan University, spearheaded the successful drive to add historic daffodils to every show of the American Daffodil Society, written articles for numerous national magazines including Horticulture, Fine Gardening, and Old-House Journal, and planted heirloom bulbs with Martha Stewart on national TV. When he's not in the garden, Scott enjoys antiquing with his wife and watching UM sports with his two grown sons. (Go Blue!)
Our Incredible Customers
We love our customers! Most of them garden in backyards, old and new, that are probably a lot like yours, in all 50 states. Others garden at famous historic and public gardens such as Monticello, Old World Wisconsin, the Denver Botanic Garden, and Alcatraz. Some have never planted bulbs before; many are expert gardeners looking for something a little different. They send us suggestions, complaints (we want to know!), planting tips, bulb stories, photos, old catalogs, books on loan, Christmas cards, boxes of chocolate, and tons of moral support. It's this far-flung, close-knit village that has made Old House Gardens more than just a dream — and we never forget that.
A Few Highlights from Our Journey
1993: We mail our first catalog, offering 30 bulbs.
1994: Sales triple. We add our first employee.
1995: Garden Design features two full-page photos of our tulips.
1996: Giddy with optimism, Scott leaves teaching for full-time bulb selling.
1997: The leading consumer magazine gives our bulbs their highest rating.
1998: A local high school student helps us launch our website.
1999: Charlie the cat comes to work as our VP for Enjoying Life.
2000: Mount Vernon, the Smithsonian, Mepkin Abbey, and the Denver Botanic Garden grow our bulbs.
2001: The Phipps Conservatory honors us with their annual Flora Award.
2002: Horticulture makes Scott's 'Tulips with a Past' its January cover article, and he plants our bulbs with Martha Stewart on national TV.
2003: Our new email newsletter gains rave reviews and thousands of subscribers.
2004: We offer nearly 50 extra-rare tulips from the Hortus Bulborum, and Scott lectures at the Williamsburg Garden Symposium.
2005: Customer reviews rank us in the top 1% at GardenWatchdog.com, and Traditional Home offers a special collection of our dahlias.
2006: Scott helps judge the New England Flower Show, and we're featured in Multichannel Merchant, the bible of catalogers.
2007: Gardeners love our easy new Advanced Bulb Search, and Scott lectures at the San Francisco Garden Show and Horticulture's fall symposia.
2008: We expand our "Save the Bulbs" ark to include heirloom iris, peonies, and daylilies.
2009: Colonial Williamsburg asks us to supply all the bulbs for their historic gardens, and Garden Gate names our website "Top 10."
2010: GardenWatchdog.com ranks us the #1 source for ALL spring-blooming bulbs, and we plant our fourth urban micro-farm.
2011: After 17 years in Scott and Jane's house, we move into our new "green" office in the historic barn/garage out back.
2012: Scott plants tuberoses, glads, and dahlias with Martha Stewart, and we kick off our 20th year as America's premier source for heirloom bulbs.
2013: The Wall Street Journal dubs us "A-list," the Garden Club of America honors us, and Toby the rat terrier joins our crew.
2014: Scott lectures at Mount Vernon (where many of our bulbs are grown) and Country Gardens publishes a wonderful article about our micro-farms.
2015: It's a digital year! Customers love our website upgrades (zone-checking, sortable charts, etc.), our Facebook page tops 13,000 likes, and our newsletter is read in 51 countries.
2016: We launch our blog, The Wall Street Journal features us in a great article about heirloom flowers, and Scott announces that, after 24 wonderful years, he'll be retiring in May 2017.
For more OHG history and our catalog covers, see "Our First 20 Years."