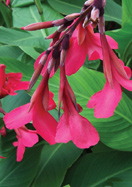 First the bad news: We recently learned that the last Dutch grower of the vibrant pink cactus dahlia 'Radiance' has quit growing it. That means this spring's tubers may be the last we'll ever offer – so if you want this well-named 1950s beauty, now is the time to order it!
Then the good news: Three great dahlias came through winter storage better than expected, so 'White Aster', 'Gypsy Girl', and the immortal 'Jersey's Beauty' are once again available at our website. Woo-hoo!
And finally the really big news: For the first time in many years, three exceptionally rare beauties are also for sale again – heart-stoppingly lovely 'Winsome' dahlia, perky, bee-friendly 'Mrs. H. Brown' dahlia, and unique, spectacular 'Ehemanii' canna with its gracefully dangling clusters of brilliant rose flowers. WOO-HOO!!!!!
We're limiting 'Winsome' and 'Ehemanii' to one per customer, and most of these other treasures are also in very short supply – so if you don't want to miss them, order now!