Meadowburn Farm in northwest New Jersey was once the home of popular garden writer Helena Rutherfurd Ely. When published in 1903, Ely's A Woman's Hardy Garden was one of the first American garden books to reject Victorian pattern bedding in favor of a more informal style of gardening with shrubs, old-fashioned annuals, and perennials.
Meadowburn Farm has changed remarkably little since Ely's death in 1920. It's been owned by one family since 1930, and since 1883 its gardens have been tended by Ely's original gardener and his descendants. Today, with the help of the Garden Conservancy, the gardens are being restored to their former glory
Ely wrote that dahlias, glads, cannas, and red salvia were the only pattern-bedding plants she grew at Meadowburn. Dahlias are "decorative and desirable for cutting," she explained, and "all the varieties are lovely."
Today seven dahlia varieties survive at Meadowburn, possibly from as far back as Ely's time. Unfortunately by the time Quill Teal-Sullivan was hired four years ago to guide the restoration of the gardens, the names of all had been lost. Quill turned to us for help, but since literally tens of thousands of dahlias have been introduced since Ely's time, I knew that identifying Meadowburn's relics would be a long shot at best.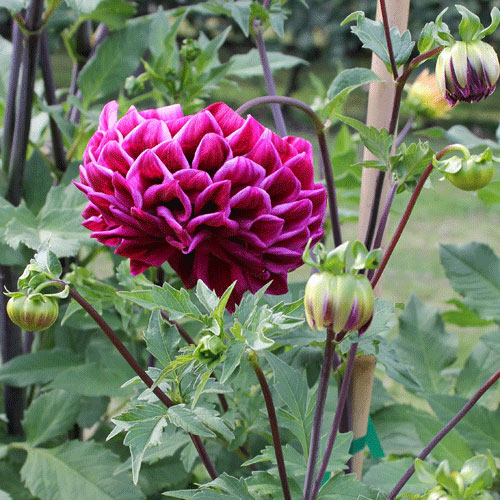 After looking at photos, all I could tell her was that one might be 'Jane Cowl' and another 'Deuil du Roi Albert'. We sent her tubers of both so she could grow them side by side to compare foliage, height, bloom-time, and other details – which is the only way to be certain about an identification – and we put her in touch with nearby dahlia experts who could visit Meadowburn and offer their insights.
Quill finally decided that one of the dahlias is indeed 'Jane Cowl', and she's given new names to the others. Perhaps oldest of all – to judge by its 19th-century form and the way its flowers nod – is the one that's now called 'Meadowburn Byba Vincenza' (see above left).
All seven are for sale at the Meadowburn website, with proceeds helping to fund the restoration of the gardens, including "the 150-foot dahlia allèe – filled with heirloom varieties – [which] erupts with color in late summer, as it has done for more than a century." Learn more about Meadowburn's gardens and its dahlias – and then maybe order one of its relics to grow in your own garden this summer! (Feb. 2016)