An 1886 trip to Holland had a profound impact on Monet's painting and gardening, as explained by Vivian Russell in Monet's Garden: Through the Seasons at Giverny: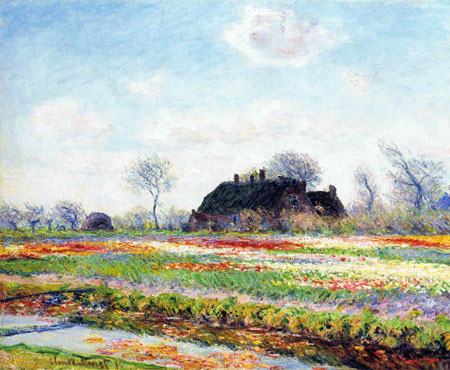 Tulip Fields at Sassenheim, 1886
"The Dutch tulip fields stretched before him in sheets and blocks of color that formed a bold, brilliant mosaic that no painter, Dutch or otherwise, had ever attempted to capture on canvas before. In a letter, Monet spoke of these 'enormous fields in full bloom; it's admirable, but enough to drive a poor painter crazy – impossible to render with our poor colors.'
"Not one to let a challenge pass, he took up his brushes and in twelve days produced five canvases. Infused with sunlight, blue sky, and white clouds, his red and yellow tulip fields shone luminously.
"The bulb growers' technique of strengthening the bulbs by picking off the flower heads just at their peak also impressed him. There were piles of these blooms on the banks of the canals. What struck Monet was that 'on these little canals we see spots of yellow, like colored rafts in the blue reflection of the sky.' The image of flowers floating on a mirror of water would obsess him for the rest of his life.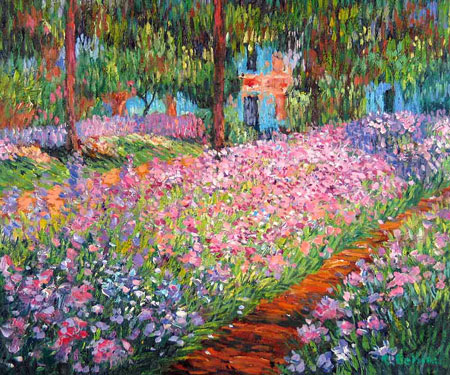 The Artist's Garden at Giverny, 1900
"Using the tulip fields as a point of departure, he began recreating the effect of these concentrated splashes of color [in his gardens at Giverny] by making long rectangular beds planted with one variety of flower giving a solid block of color. Occasionally he would mix flowers to give various color harmonies. This became the theme and variations of the flower garden, with new plants and color schemes being added all the time – blocks of yellow marigolds, for instance; long, wide lines of blue irises; gladioli in one color or a mixture of two; Japanese anemones in whites and pinks; mauve and orange snapdragons together.
"To allow him to expand and experiment with an even greater variety of colors and plants all at once, he created smaller versions of these long beds, his famous 'paintbox beds,' thirty-eight in all, laid out in pairs from the top of the garden to the bottom. The gardeners [today] always refer to them affectionately as les tombes because they are the same size and shape as a grave, but it is not known whether that was Monet's nickname for them, too. Each one was planted seasonally with different annuals or biennials in specifically chosen colors, laid side by side, like daubs of color on a palette or on one of his canvases."