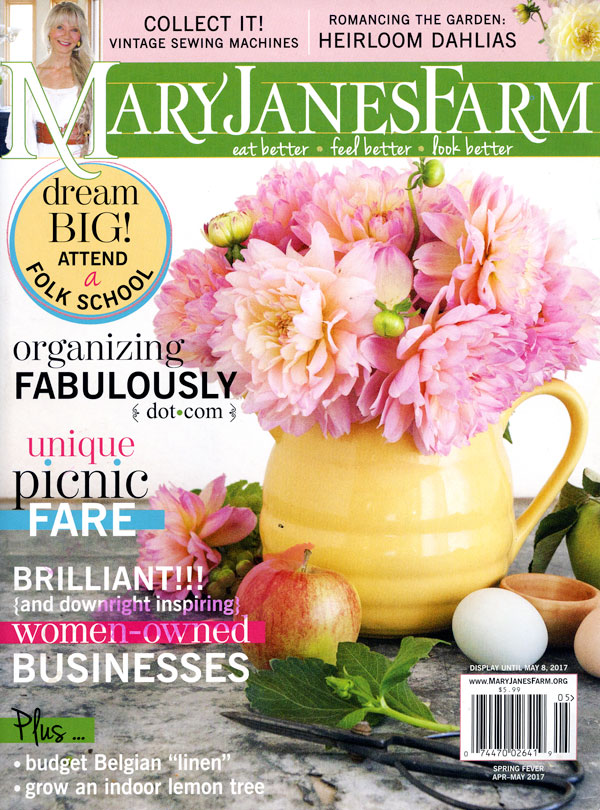 The frothy pink blossoms of our 'Rosemary Webb' dahlia fill an old yellow pitcher on the cover of the April-May 2017 issue of MaryJanesFarm magazine.
Inside, in an article titled "Dreamy Dahlias," MaryJane writes, "I bought my tubers from Old House Gardens.... A 'new generation of sustainable farmers,' they cultivate heirloom bulbs on five 'micro farms' on vacant lots and other scraps of land within a few blocks of downtown Ann Arbor. Mine were, if I must say so myself, stunning!"
An organic farmer in Moscow, Idaho, MaryJane launched her "organic-focused lifestyle magazine" in 2001. Today it has a circulation of 135,000 and if you're not already a subscriber you can find it at Whole Foods, Barnes & Noble, Walmart, and other stores all across the country.
MaryJane showcases our daffodils on page 5 of the May-June issue, too, with photos from our catalog of eleven heirloom varieties she planted at her farm last fall. Stay tuned for a follow-up article on them sometime later this year – and subscribe or learn more at maryjanesfarm.org/.