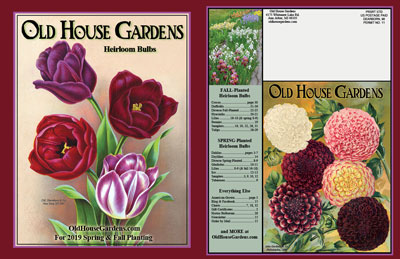 Surprise! In our never-ending quest to serve you better, we're mailing our catalog in January this year.
And it's a complete, two-season catalog, with spring-planted bulbs for delivery in April and fall-planted bulbs for delivery in October.
Almost 40 of your favorites are back from a hiatus – 'Florentina' and 'Eleanor Roosevelt' iris! 'Albatross' and 'Little Witch' daffodils! – and we're offering a dozen heirloom beauties for the very first time:
DAHLIAS (spring delivery) – 'Fascination', 'Fatima', 'Natal', 'New Baby', and 'Rocco';
GLADS (spring delivery) – 'Plum Tart', 'Trader Horn', and 'Wine and Roses';
OTHERS for spring delivery – 'Star of the East' crocosmia and 'Royal Beauty' daylily;
PEONIES (fall delivery) – 'Lady Alexandra Duff' and 'Victoire de la Marne'.
If you're a returning customer your catalog should be in your mailbox by the end of this month.
But why wait? Everything in the catalog is online now – along with dozens of web-only rarities – and you can ADD to your order anytime through March 15 (for spring) or Sept. 15 (for fall).
So go ahead! Give yourself something special to look forward to by ordering now for spring or fall delivery – or both!
Read January's News, Alerts, & Quotation.