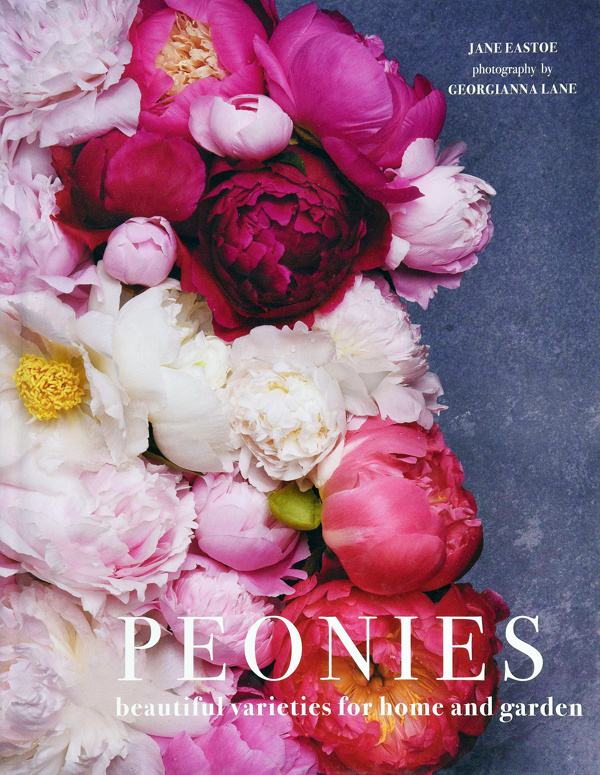 If you're already lamenting the end of peony season – or if you're telling yourself that this fall you really are going to add a couple of extra-special ones to your garden – here's a book you may find both comforting and inspiring.
As I wrote in March about its companion volume, Dahlias, it's "a gorgeous book, filled to overflowing with spectacular, full-page images that are sure to get a gardener's heart pounding." These include close-ups of the 53 featured varieties as well as shots of peonies blooming en masse in the growers' fields or artfully combined into exquisite bouquets. Photographer Georgianna Lane is a master at capturing the inner glow and subtle shadings of peonies which makes them spring to life on the page. (The sumptuous two-page photo below is of 'Mrs. Franklin D. Roosevelt'.)
Although Jane Eastoe's text is rich in historical information, mostly about the diverse breeders who created these well-loved flowers, there are also puzzling errors. For example, Eastoe says that 'Miss America' is "one of the easiest varieties to propagate by seed," even though peony cultivars virtually never come true from seed, and she describes 'Karl Rosenfield' as a peony that should spring to mind whenever someone says "think pink," even though 'Karl Rosenfield' is virtually always described as red.
Ah, but those magnificent photographs! Although Peonies may not be a perfect book, I think most peony-lovers would agree that it's well worth the $16.82 it costs at Amazon.