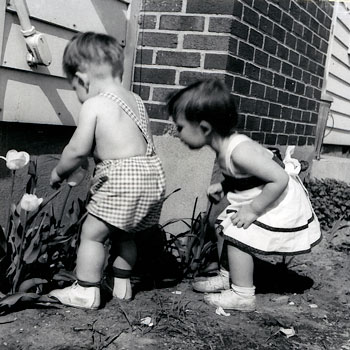 As you can see in this snapshot, I've been fascinated with flowers for a long time (and don't you love my checked shorts?).
My dad helped me plant my first garden when I was seven, and although I soon learned that weeding is an endless chore, I was thrilled when I harvested my first radishes and I've been gardening ever since.
Eventually my love of plants led me to launch Old House Gardens, and now that I'm retiring in May we printed a short history of OHG on page 48 of our catalog.
Even better is the clickable version we posted online recently, with links to the "welcome" letter from our first catalog, our dramatic 1996 debut in Garden Design, a short video of me planting bulbs with Martha Stewart, and more.
I hope you'll enjoy it – and then please help my crew (aka the new owners) continue the Old House Gardens story!