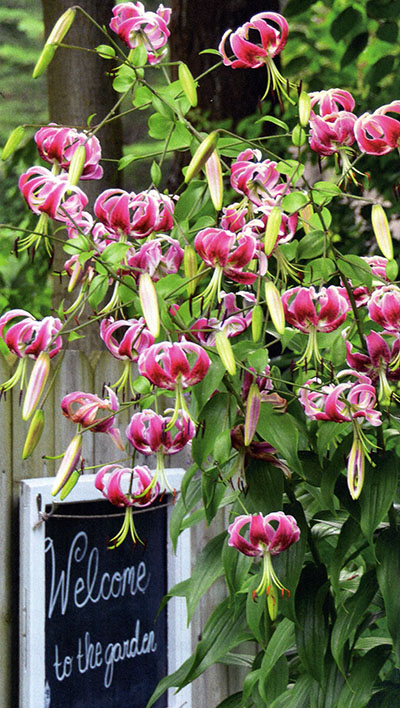 "For lily lovers, nothing is more exciting than the launch of lily season," writes Susan Martin in the June 2020 Garden Gate. "These towering flowers are definitely 'thrillers'," she says, and "ideal for people looking to squeeze more color into chock-full garden beds since their narrow habit takes up a small footprint."
Three of our heirlooms, we're happy to say, made Susan's list of "top picks."
'Black Beauty' (fall-shipped) – "Lily breeder Leslie Woodriff may be best-known for creating the 'Stargazer' lily," Susan writes, "but many consider 'Black Beauty' … to be his crowning achievement….
"Anywhere from 20 to 40 lightly fragrant flowers line the towering stems … with dark raspberry-pink petals which reflex back to reveal a lime-green center starburst…. Described as 'indestructible' by many lily growers, this vigorous, long-lived variety is as elegant as it is durable."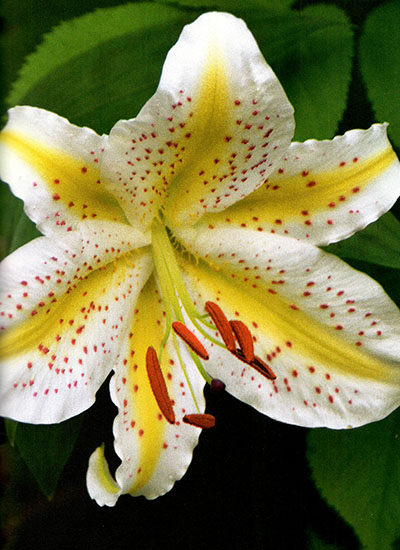 'Gold Band' (spring-shipped) – "The clear coloration and pristine form of this lily's flowers will stop you in your tracks," Susan says. Although it was "first sold in 1862, it has the look of a fresh new introduction….
"Huge blossoms up to 10 inches across open to reveal silky white petals, exuding a sweet fragrance that draws in passersby. Each lightly ruffled petal bears a glowing gold stripe down the center, while a dusting of cinnamon sprinkles completes the look. This lily will thrive in a cool spot that receives bright, filtered sun and requires acid soil to return well each year."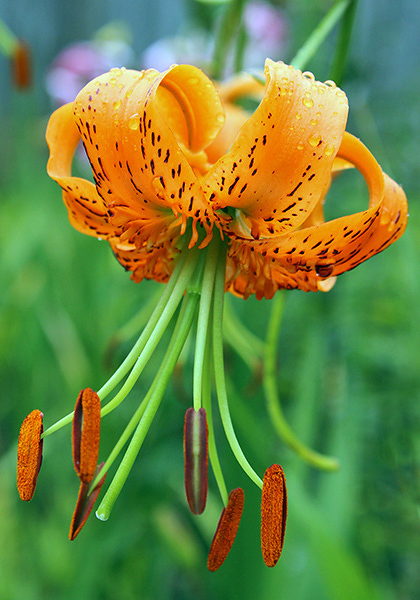 Henry's lily (spring-shipped) – "We couldn't talk about lilies without mentioning this ancestor of many popular hybrid lilies," Susan writes. Henry's lily "is easy to grow and looks right at home in woodland gardens where it glows in the filtered shade of tall trees.
"It bursts onto the scene in midsummer with tall panicles carrying 10 to 20 nodding, reflexed orange blossoms apiece. Each flower is painted liberally with maroon spots. As the bulbs mature, their flower count increases and their stalks tower upwards of 6 feet." (Please note that the flower pictured in the article was tiger lily, not Henry's lily – pictured here – which is a much more golden orange and, to my eye, more beautiful.)
Read September's News, Alerts, & Quotation .