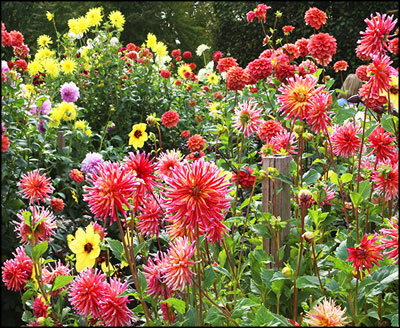 Fall is dahlia season, and the parking lot at Longwood Gardens was overflowing recently as thousands of visitors thronged to the national show of the American Dahlia Society.
Longwood is one of the country's grandest public gardens, and dahlias have been grown there ever since it was the private home of Pierre S. du Pont. Between 1909 and 1934 du Pont purchased "around 500 batches of dahlia tubers," according to the Longwood archives, probably for planting in his 600-foot Flower Garden Walk where they're still grown today in a sumptuous mix of annuals, perennials, and grasses.
In a recent interview with blogger Margaret Roach, Longwood horticulturist Roger Davis shares his tips for growing and (if you want to) storing dahlias. Two of the three varieties they discuss are heirlooms – dark-leaved 'Bishop of Llandaff' and creamy 'Café au Lait' – and fellow oldie 'Thomas Edison' is also blooming gloriously at Longwood this fall.
Read the complete interview here, and if it leaves you feeling inspired, here's a tip from us – you can order your own dahlias now for delivery at planting time next spring.