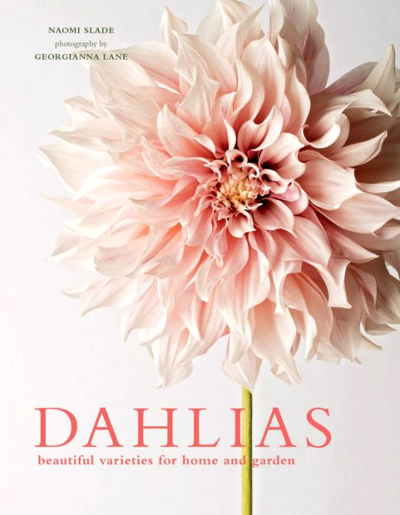 This is a gorgeous book, filled to overflowing with spectacular, full-page images of dahlias that are sure to get a gardener's heart pounding. Although the text by noted UK garden writer Naomi Slade is perfectly fine, it's the photography by Georgianna Lane that's the star here.
I have to admit I'm a little uncomfortable with that. I read garden books to learn things, mostly, but this book is more about getting you excited about dahlias by showing you how incredibly beautiful they can be. And I'd say it works!
That's 'Café au Lait' on the cover, and inside there's an even more beautiful, two-page spread of a dozen blossoms in all their subtle, rippling, cream-to-pink glory. How anyone could look at that image and not want to grow 'Café au Lait' is beyond me.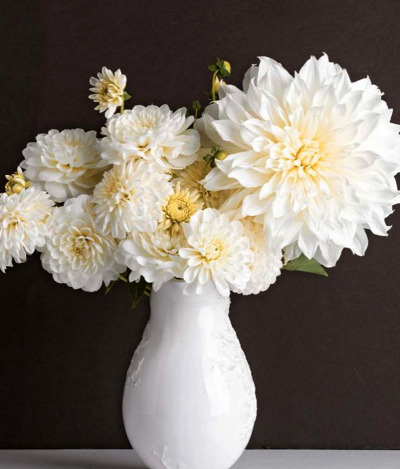 Sixty-four other dahlias are featured – including heirlooms 'Clair de Lune', 'David Howard', 'Fascination', 'Gerrie Hoek', 'Kelvin Floodlight', 'Thomas A. Edison', and more – each with a one-page description and a luscious, full-page photo or more.
There isn't a lot of other information, just six pages of dahlia history and botany, six pages about the various forms, a dozen pages on how to grow them – from a UK perspective—and that's it. But did I mention how beautiful the photos are?
"Dahlias are easy and enjoyable to grow," Slade writes, and "there are few plants that flower so consistently and splendiferously." If you already grow them, this book – which is a great value at just $15.50 online – will be a treat. And if you haven't tried them yet, Dahlias may be just what you need to get started.