A long-time customer – who asked to remain anonymous – emailed us this sad report after reading our article "The Queen of Garden Antiques" in last month's newsletter:
"While collecting garden antiques is a wonderful adventure, there is a sad downside. Our garden was burgled last summer with more than 20 garden ornaments taken, many of them antiques.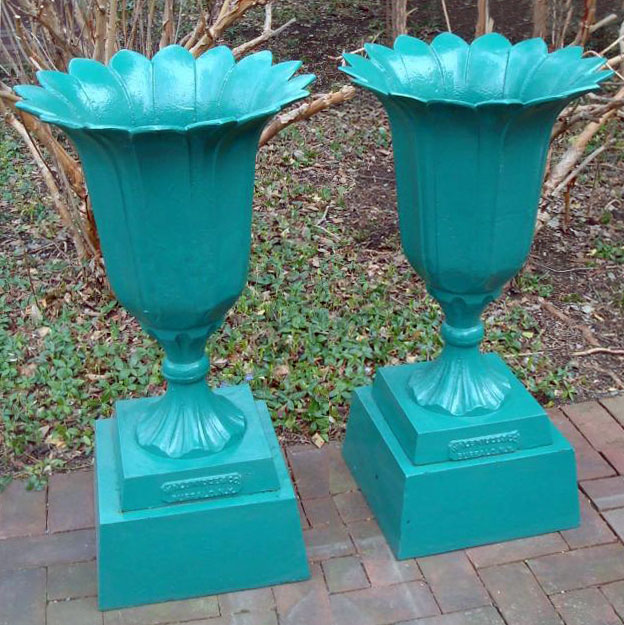 "Someone had obviously cased the garden and knew what to take. They even went into my greenhouse and potting shed in search of portable items.
"Alas, I had a photograph of only one of the stolen pieces, taken for a garden tour brochure. Lesson learned. Everything will now be photographed and kept in a file along with all of the receipts, which I do have safely stored.
"Since then I have had a welder bolt some of my smaller urns in place, and though I refuse to consider security cameras, I have hung up signs up that say 'Smile, you are on camera.' We keep our six antique iron gates locked, along with the greenhouse and potting shed, and I am like a little old lady walking around with my ring of keys. Not a pleasant way to have to live.
"Forty-plus years of collecting, gone. And I will not be able to – or even want to – start replacing many of these lost treasures. They took a pair of cast-iron tulip urns, for example, that I loved. I saw a similar pair (pictured) offered recently for $4200. Mine were a bit smaller, but when I bought them years ago I probably spent less than $100 each."
My condolences, friend! And here's hoping that your heartbreaking story will be a wake-up call for the rest of us.