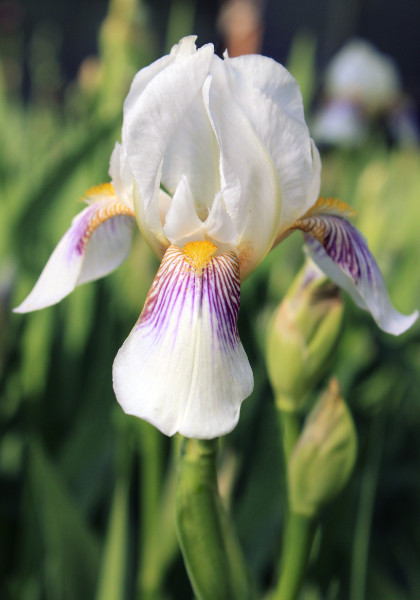 For the first time this spring we're offering the elegant little iris called 'Mrs. George Darwin'.
Like its equally wonderful sister-in-law 'Mrs. Horace Darwin' which we also offer, it was bred in the late 1800s by Sir Michael Foster, a Cambridge physiology professor who laid the foundations for modern iris by crossing garden forms with unusual varieties — including the first tetraploids — sent to him by missionaries and travelers.
But who was Mrs. George Darwin?
Wikipedia offers a short biography along with a charming portrait of her dressed all in white, like her namesake iris. Philadelphia-born Martha du Puy — who was always known as Maud — met her husband while visiting relatives in England. George was the son of the great Charles Darwin and a noted astronomer at Cambridge where the young couple became lifelong friends with Foster.
I learned a lot more in the entertaining Period Piece: A Cambridge Childhood written by Maud's daughter Gwen Raverat.
Her mother's "casual happy-go-luckiness . . . was one of her most attractive qualities," Raverat writes, but she was also "singularly fearless" and "always on the side of progress," with a "sturdy American belief in independence" that made her "encourage us to do things for ourselves, unlike the well brought up English children of our class, some of whom did not know that you could make a bed yourself." When Maud died in 1947 at the age of 88, her obituary noted her campaigning for women police officers.
Although iris aren't mentioned in the 66-page preview of Period Piece at Google Books, there is a funny account of Maud's first meeting with Foster, who seemed a bit tipsy. Even better, Raverat's description of Maud's physical appearance suggests why Foster named this particular white iris with its touches of gold and purple for her. "My mother . . . had golden-brown hair and dark blue eyes and such a lovely complexion that people often thought that she was made up."