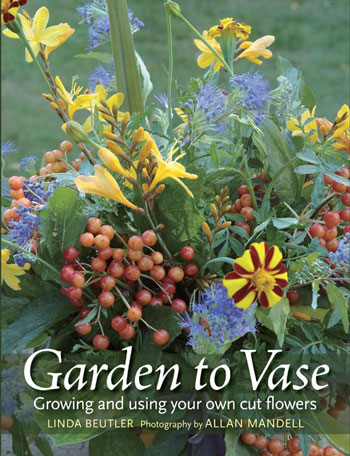 If you like picking bouquets from your own garden – and who doesn't? – Garden to Vase is a refreshingly down-to-earth guide full of great advice for getting all sorts of flowers to look better and last longer when cut.
Did you know, for example, that your daffodils will stay in top shape much longer if you let them sit for twenty minutes in a bucket of water while their gooey sap drains out?
And Garden to Vase goes way beyond technical advice. Author Linda Beutler writes as if she were your next-door neighbor, offering tips for collecting vases, using what you already grow, and making cut flowers an everyday pleasure in your home.
She's funny, encouraging, irreverent, and real. "Don't be afraid to get this book dirty," she writes, and we plan to do just that.
In fact, we liked Linda's advice so much that we asked her if we could post excerpts from it at our website. She was glad to help (thank you, Linda!), so check out our new "Bulbs in Bouquets" page. There you'll find both cut-flower fundamentals and bulb-by-bulb specifics ("harvest peonies in the 'soft marshmallow' stage," for example) for everything from Abyssinian glads to tulips.