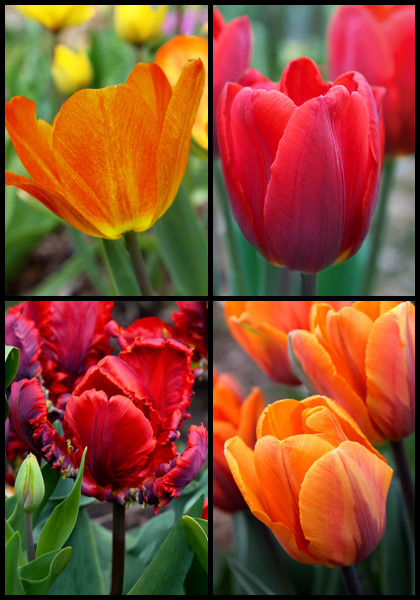 clockwise from top left: 'Generaal de Wet',
'Couleur Cardinal', 'Prinses Irene', and 'Rococo'
With the heat driving us in from the garden too soon these days, and even the weeds starting to look parched, dreaming of spring can be as refreshing as an ice-cold lemonade – or gin-and-tonic, if you prefer.
To get you started, here's an excerpt from "Spring's Brilliant Promise" by Katherine Swift in the April/May 2020 edition of The English Garden.
"Winter, with its absence of color, makes me long for tulips: their clean outlines, each one a pop of color in the still-bare garden. For what other flower has such a wide range of colors?
"Whites from snow to clotted cream; yellows from primrose to egg-yolk; pinks and purples; reds from pillar-box to the color of dried blood; flaming orange and bronze; even the greens of viridiflora tulips. And in every combination from flamboyant bi- and tri-colored parrot tulips to the subtle layering in a simple early tulip like 'Generaal de Wet', glowing marigold-yellow and netted with mandarin-orange – my favorite early tulip, and scented, too.
"Then there are . . . families of related tulips, where color combinations are like different tenses of the same verb: 'Couleur Cardinal', whose crimson petals are shaded with rich plum, and 'Prinses Irene', a sport of 'Couleur Cardinal', whose orange petals are flamed dusky purple. The parrot tulip 'Rococo' belongs here too, another sport of 'Couleur Cardinal', with velvet petals flushed purple and splashed with green.
"But combining different colored tulips is an art in itself. You must consider not only colors but timings. . . . One year a trick of the weather meant 'Couleur Cardinal' and 'Generaal de Wet' flowered at the same time. I have been trying to replicate the electrifying effect ever since. . . .
"Don't use them as bedding, en masse, underplanted with contrasting groundcover. They should not be treated as wallpaper for they are flowers that deserve to be looked at individually, close-up. A feast for the eyes after the famine of winter."
For even more cooling refreshment, why not order a few tulips now for delivery this fall – when July's heat, we hope, will be nothing more than a memory.