One of the most interesting historic gardens I've ever visited is that of Anne Spencer, a little-known African-American poet who lived in Lynchburg, Virginia. Starting in 1905, Anne and her husband Edward transformed their narrow backyard into a highly personal garden with an aqua-blue pergola, a small pool filled by a cast-iron African head spouting water (a gift from W.E.B. DuBois), and beds overflowing with roses, iris, larkspur, poppies, and other flowers.
After Anne's death in 1975, the garden that she'd called "half my world" was all but lost – but, remarkably, it wasn't, and the story of its unlikely rescue is told in a fascinating new book, Lessons Learned from a Poet's Garden by Jane Baber White.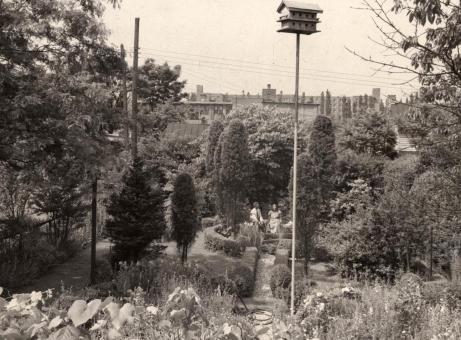 "Lessons Learned" are the key words, because as Jane told me in a recent email, the book isn't just "the 28-year story of a garden restoration by a group of garden club ladies. The names could be changed and it could be anywhere. Indeed, that is sort of the point. I hope the book will be helpful to anyone, anywhere, who might be planning a garden restoration. These are the steps we took that might be helpful to them."
It's not a dry how-to manual, though. It's a richly illustrated book laid out something like a scrapbook with all sorts of bits and pieces clipped together and overlapping one another – old family photos taken in the garden, notes Anne scribbled on seed catalogs, receipts, newspaper clippings, snapshots of the restoration, and evocative photos of the restored garden today.
Although I could argue with some of the things Jane and the garden club ladies did – I don't think any restoration, for example, should start with a bulldozer – the bottom-line is that this compelling garden was in dire need and they saved it. For that, all I can say is bravo, and thanks!
To buy a copy of Lessons Learned, visit the newly-upgraded website of the Anne Spencer House and Garden Museum which is full of excellent photos and information. And since proceeds from the book will help fund the ongoing care of the garden, and the "lessons" it offers are so valuable, please consider asking your local library, garden club, or historical society to buy a copy, too.