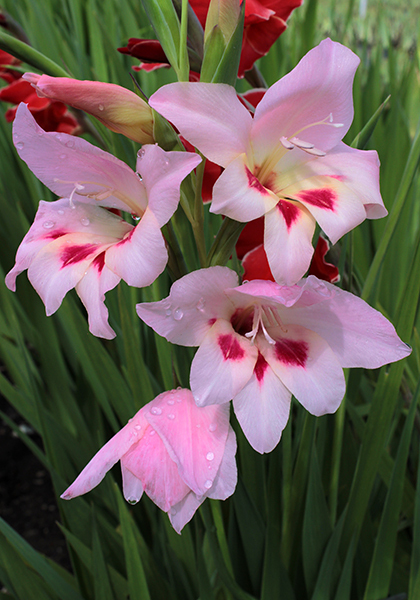 If you still aren't convinced that glads belong in your garden, here's a bit of advice from head gardener Tom Brown of the celebrated West Dean Gardens in Sussex.
It can be "tricky to associate most gladiolus with other garden flowers," Brown writes in the August 2019 Gardens Illustrated, because "the exotic blooms scream for attention and dominate their companions."
But small-flowered glads are "the exception to this rule." Brown explains that he uses "these little flowers in clumps throughout my herbaceous borders, providing a colorful pick-me-up through the latter part of the season. I've started to view them as a summer tulip. Plant them around 100 days before you want them to flower and enjoy a burst of color when much of the garden is tired from the summer heat."
'Atom' is our customers' favorite small-flowered glad, and one of the cheapest. (You could easily pay more for a latte than you will for five 'Atom'.) Others include dainty pink 'Elvira' along with two which are newly returned to our website and – as always – in short supply: luminous 'Green Lace' and apricot-freckled 'Starface'.
Although we hope to have more glads to offer in January, if you want 'Green Lace' or 'Starface' it's probably best if you to order them now – remembering that you can always add to your order later.