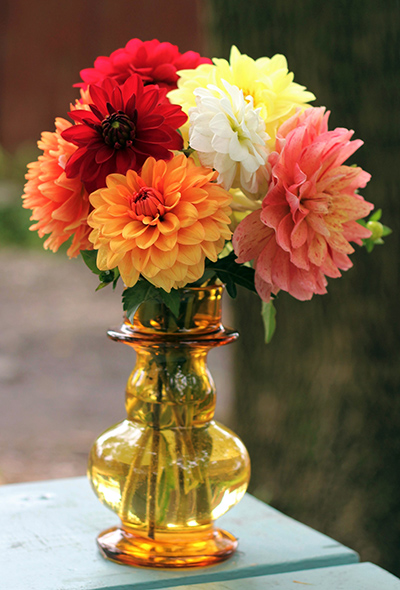 With night temperatures cooling as fall approaches, the dahlias in my garden are blooming exuberantly. If yours are, too, here are some tips for enjoying their bounty from cut-flower grower Michael Russo as reported by Sherri Ribbey in the October 2020 issue of Garden Gate.
"The best time to cut dahlias is in the morning before 10 AM so plants are well hydrated. Watering the night before can help if rain has been scarce. When you're cutting long stems for arrangements, cut above a pair of leaf nodes ... and the dahlia will rebloom.
"Check the back of the bloom when you're cutting. If it's starting to curve, it's too old and won't last as long in the vase. Look for dahlias with a flat back to get the most life – usually 5 to 7 days. Put the cut stems in a bucket of water right away to help keep them fresh."
As for arranging them in a vase, "Michael often uses an analogous color scheme (colors that are next to each other on the color wheel)" to produce "a harmonious feel." To "create drama," on the other hand, he recommends choosing complementary colors. "The strong contrast between colors across from each other on the color wheel is sure to turn heads."
Although my dahlia bouquets tend to be mostly dahlias – or even just one dahlia – Russo's include an inspiring array of other stuff found in many fall gardens: hydrangeas, goldenrod, fountain grass, tomatillos, dark red hibiscus foliage, the feathery seedheads of clematis, and even an unruly spray of hops.
So what's in your dahlia bouquets? We'd love to hear from you, or send us a photo. In times like these, virtual bouquets are a healthy treat!