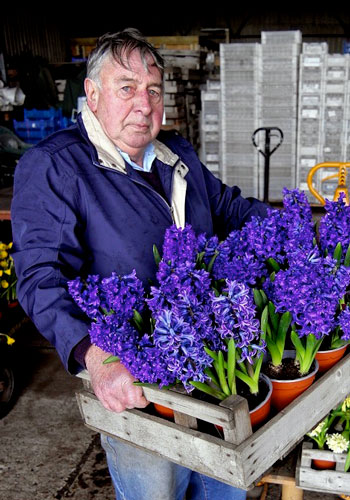 With a collection of 243 hyacinth varieties dating back as far as the 1700s, our good friend Alan Shipp is an inspiring example of what one person can do to save our incredibly rich garden heritage.
Although we've been the sole US source for Alan's hyacinths for many years, and we're proud to call him a friend, we learned a lot we never knew about him in an engaging post at the British blog Spitalfields Life. Alan is a great story-teller with a jolly sense of humor, and the blog's author captures him well.
Alan talks about how his family farm got its start when his grandfather won a pony in a raffle, how he learned how to propagate hyacinths from a slug, and how the "extinct" 1767 double white-with-red-eyes 'Gloria Mundi' was rediscovered in a tiny village in Romania.
Read it all, and enjoy photos of Alan's hyacinth fields in bloom, at spitalfieldslife.com/2017/03/26/alan-shipp-hyacinth-grower/.
(As soon as we learn what varieties Alan will have available for us this fall, we'll announce it here in our blog.)