A "large panel with magnificent red dahlias amidst a jumble of grass and creepers" — that's how a reviewer in 1877 described Renoir's five-foot-tall The Garden in the rue Cortot which hangs today in the Carnegie Museum of Art, Pittsburgh.
According to Renoir Landscapes: 1865-1883, "This exuberant depiction of an overgrown garden is linked to the creation" of one of his most famous paintings. "In spring 1876 he was seeking a studio in Montmartre which would put him in proximity to the outdoor cafe where he planned to paint his large, multi-figure composition, The Ball at the Moulin de la Galette. . . . There he would store the canvas overnight, enlisting the aid of friends to carry it the short distance to the Moulin to begin work each day. His friend Georges Riviere described how he and Renoir . . . found such a studio . . . [and] were delighted to discover that it came with a large, secluded garden, 'which resembled a beautiful abandoned park . . . . We were amazed.'" Renoir completed several important paintings in the garden and applied what he learned there "as he painted his friends at the Moulin enjoying themselves under the acacia trees on a sunny afternoon. . . . Secluded and tranquil but within hailing distance of central Paris, the garden in the rue Cortot was . . . an oasis for Renoir and, in its lush splendor, a spur to his creativity at a vital moment of artistic development."
Dahlias also figure prominently in Renoir's Claude Monet Painting in His Garden at Argenteuil of 1873, and art historian Clare Willsdon has "wondered if Monet perhaps might not have given Renoir some of his own dahlia tubers to plant in the rue Cortot garden." Since dahlias were one of the most popular flowers of the era, Renoir could have gotten his tubers anywhere, but as gardeners we're happy to believe that Monet — an avid, life-long gardener — passed them along to his friend.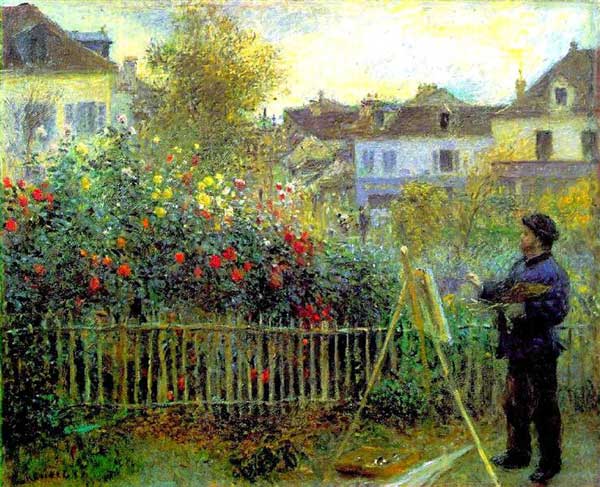 Monet Painting In His Garden At Argenteuil