The small white daffodil known as Silver Bells, Swan's Neck, or Goose Neck has been a cherished favorite in Southern gardens for a very long time.
Author Eudora Welty and her mother grew it in their Mississippi garden, and she wrote about it in her Pulitzer Prize-winning novel, The Optimist's Daughter, as Susan Haltom and Jane Roy Brown explain in their excellent One Writer's Garden:
"Welty loved Silver Bells daffodils, 'the nodding, gray-white kind with the square cup' that a family friend brings to the funeral in Laurel's father's house in The Optimist's Daughter.
"'You know who gave me mine — hers are blooming outside,' the friend says to Laurel, alluding to Becky [Laurel's mother] having shared the daffodil bulbs in typical pass-along fashion. Years after her death, Becky's gesture has circled back to comfort her daughter.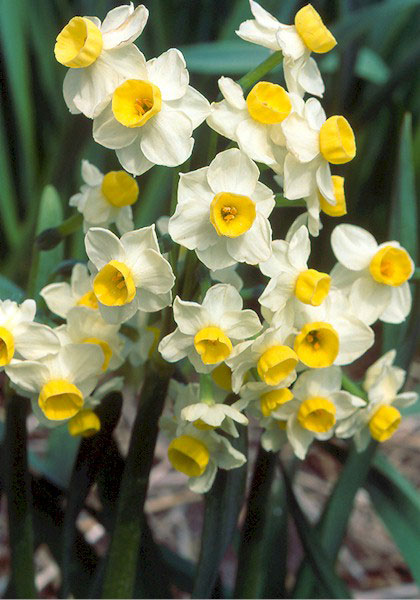 "Daffodils blooming in fields or woods throughout the South often mark the sites of bygone houses, where they traditionally lined the front walk. These flowers also may have reminded Welty of Elizabeth Lawrence, who also preferred white daffodils."
Another favorite in the Welty garden was the fragrant, cluster-flowered narcissus 'Avalanche' which Eudora called Presbyterian Sisters "because they hang together."
Welty's home has recently been restored and opened to the public as a museum, and we're proud to have supplied the daffodils, Roman hyacinths, oxblood lilies, tuberoses, dahlias, glads, and other bulbs that once again grow in her garden.