The grape-scented, lavender-blue iris known as I. pallida 'Dalmatica' has been used in perfumery since ancient times, and it's still being farmed for that purpose today – as our good customer Debbie Hughes of Wellsville, Kansas, discovered while vacationing in Tuscany. Debbie's photo of a field of Iris pallida (above) inspired us to learn more, and a Google search led us to the Sagrona vineyard, "a small family vineyard in the heart of Chianti" where I. pallida is grown amid the grapes as it has been for centuries.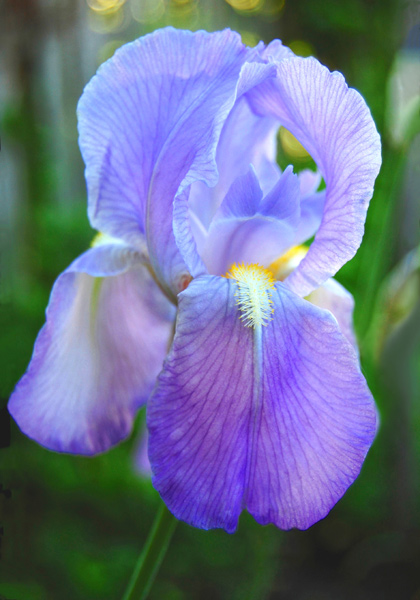 I. pallida 'Dalmatica'
As you'll see at Sagrona.com, it's not the iris flowers that are harvested but the rhizomes. Peeled by hand and dried for two to five years, they develop a violet-like scent and fixative properties that preserve the chemical structure of other fragrances, prolonging their aroma. Ground and distilled, a ton of dried rhizomes – known as orris root – yields 4.5 pounds of a thick, oily, and very expensive substance called orris butter which is still widely used in making high-end fragrances – and gin.
But there are many other reasons to grow this great old iris. "Among its sterling qualities," writes Sydney Edison in A Patchwork Garden, "are a tenacious resistance to borers, stems strong enough to support the medium-sized blossoms, and superb gray-green foliage that is an asset in the garden instead of an eyesore. . . . A wild species found originally in Dalmatia [roughly the former Yugoslavia], Iris pallida appears somewhere in the family tree of most modern cultivars but it has none of their faults. . . . I prefer this lovely, deliciously scented hand-me-down to all other tall bearded irises."