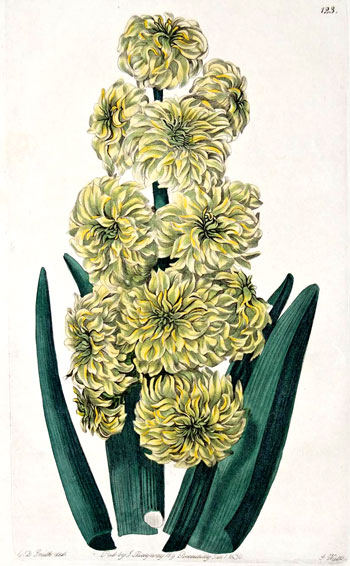 'Ophir' in 1827 Florist's Guide and Cultivator's Directory
As Heidi Klum says on Project Runway, "In fashion, one day you're in, and the next day you're out."
But fashion cuts both ways, and what's scorned or overlooked one day can become the coolest of cool. That's what happened with double hyacinths which emerged from the compost pile to become, for much of the 18th and 19th centuries, the world's most popular flower bulb.
The story of their origins is told in an 1897 article in The Gardeners Chronicle based the Marquis de Saint Simon's exhaustive Des Jacintes, de leur Anatomie, Reproduction, et Culture of 1768:
"The first double variety was a seedling which appeared in the gardens of Peter Voorhelm . . . at Haarlem. At that time, the exact date is not certain but it was probably towards the latter part of the seventeenth century, all the bulb growers waged incessant warfare against all hyacinths raised from seeds or offshoots bearing flowers which in any way did not conform to the conventional notions of a perfect flower. The idea of a double variety does not appear to have entered even into the dreams of the Dutch [flower lovers].
"But (and the story reads almost like a page out of Dumas) Peter Voorhelm was taken ill, and could give no attention to his plants, and was unable to examine them until the hyacinths were beginning to die off. A flower of unusual form arrested his attention, and examination proved it to be a double hyacinth. It was very small, but he cultivated and multiplied it, and was soon able to place it on the market, whilst numerous amateur growers were found willing to pay high prices for the new bulb.
"The . . . first double hyacinth had a comparatively short life, for it was lost long before 1768. The two double varieties discovered subsequently were named, respectively, 'Marie' [not the single 'Marie' that we offer now] and the 'Roi de la Grande Bretagne'. . . . The latter was raised about 1698, and was infinitely the finest of the first three varieties and over a thousand florins was paid for a single bulb."