Congratulations to the American Dahlia Society on its 100th anniversary!
Introduced from Mexico in 1798, dahlias became one of the most popular plants of the 19th and early 20th centuries. The UK's National Dahlia Society was founded in 1881, the German Dahlia Society in 1897, and – after a failed attempt in 1895 – the ADS was established in 1915. The new society held its first national show that fall in New York's Museum of Natural History. The blooms were displayed in milk bottles, winners took home $100 worth of ribbons and medals as well as $325 in cash, and the show drew some 35,000 enthusiastic viewers.
Dahlias are on the rise again today, and of all the bulbs we ship in the spring, they're the most popular with our customers. They're easy to grow, great for bouquets, and spectacularly diverse. To celebrate the ADS centennial, here are four easy ways to add at least one of these incredible flowers to your garden this spring: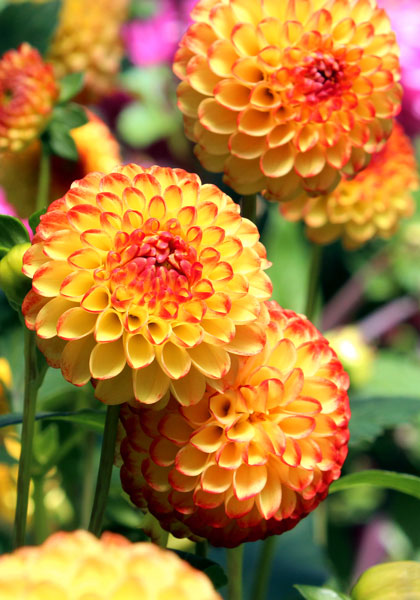 'Little Beeswings'
1. Grow the oldest dahlia that still ranks as an ADS "Fabulous 50" dahlia – 'Kidd's Climax', which last year won 78 blue ribbons or higher awards.
2. Grow an heirloom that still ranks as an ADS "Cream of the Crop" dahlia – 'Kelvin Floodlight' (with 42 blue ribbons or higher awards in 2014), 'Bonne Esperance' (26), 'Juanita' (18), 'Thomas Edison' (16), and 'Little Beeswings' (16).
3. Grow a dahlia that's so old it could have been shown in the very first ADS show: 'White Aster' (introduced in 1879), 'Union Jack' (1882), 'Tommy Keith' (1892), 'Little Beeswings' (1909), 'Wisconsin Red' (1910?), or 'Prinzessin Irene von Preussen' (1912).
4. Grow one of our easy heirloom dahlia samplers, Dreamy Dahlias or Endless Bouquets.