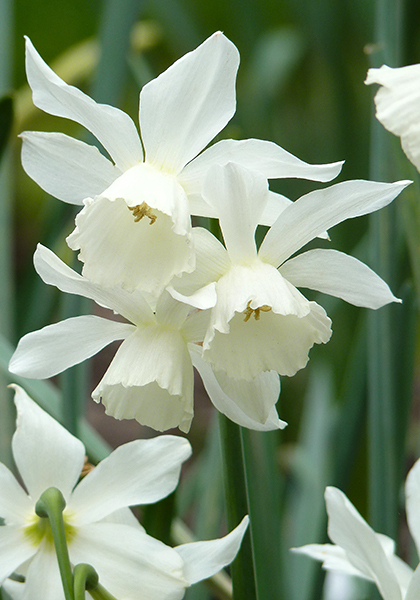 A hand-written letter arrived here earlier this spring from our good customer Carolyn Brown of Creola, Alabama, and it was so joyful and inspiring, we wanted to share it with you:
"How I wish you could see your beauties in my colonial garden," Carolyn writes. "My breath catches as I gaze upon the beauty. Why so few people here in the South have bulbs, I'll never understand. As the daffies sway in the wind I'm reminded of Wordsworth's poem" Daffodils. "How excellent a description it is.
"In your eighties, each day is more joyful than the day before, and the daffodils are prettier each day. I do hope God has daffies in heaven and I can plant acres and acres of them.
"My husband, Bob, has always said vintage roses are his favorite flower. He has around 150 this year. However he said my bulbs are getting to be his favorite, and they are far less work. In fact, he urged me to make this order. I try your smallest amount first and see how they do here, and then I go for a larger amount. I'm going to start on hyacinths next.
"Give your little dog a pat and a rub for me. Keep up your good work, and save as many bulbs as you can. And thank you all for giving an 80+ gal a wonderful life and joy with the beautiful — as my husband calls them – 'daffy-down-dillies.'
"Your Garden Pal, Carolyn B."