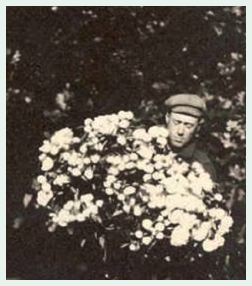 In researching heirloom iris this fall in Clarence Mahan's book Classic Irises and the Men and Women Who Created Them we were fascinated to learn about the family who brought us 'Fairy' iris, considered likely to be "the first iris bred by an American and introduced into the nursery trade." The story begins with New York native John Kennicott who, after getting his medical degree in 1828, moved to Mississippi where he taught botany in addition to practicing medicine, then to St. Louis where he expanded his work to directing the public school system, running a boy's orphanage, and publishing a newspaper…along with marrying Mary Ransom and starting a family in 1830. In 1836 he followed his three brothers who'd moved to the Chicago area and started a homestead in what became Glenview, Illinois. He collected native plants on horseback as he traveled the countryside as a frontier doctor and started one of the first plant businesses in the Midwest at his homestead, naming it The Grove Nursery & Garden. Their six children all worked there and several, as we'll see, particularly shared their father's love for nature. John is also remembered for his work encouraging a diet with more fruits and vegetables, writing for the magazine Prairie Farmer, and working to establish land grant colleges and universities. He encouraged farmers to educate their sons, and, as Mahan reports, "better than our sons, should we educate OUR DAUGHTERS," making him a progressive for his time!
John's oldest son, Charles, continued his father's horticultural work and founded and edited various horticultural and agricultural publications. The second son, Robert, began collecting plants and animals as a child and studied zoology and botany with Dr. Jared Kirtland in Cleveland (for whom the Kirtland's warbler was named.) Following his studies he returned to Illinois and spent years documenting the fauna of the Midwest, publishing articles and sending specimens to the Smithsonian. In 1859 with the Smithsonian's encouragement he explored "Russian America", what is now Alaska. He spent the Civil War years working at the Smithsonian describing, classifying and naming many species of animals and insects. He died at 30 in 1866 during a second expedition to Russian America and is honored there with the names of the Kennicott Glacier and Kennnicott River, since his reports on the natural resources of the area were part of the case made to Congress to purchase Alaska in 1867.
The third son, Amasa, is the one credited with breeding the 'Fairy' iris. Born on the Illinois homestead in 1838, he worked in the family nursery till the Civil War began, when he and a colleague organized a regiment for the Illinois Infantry. The regiment fought in Maryland, the Shenandoah Valley and eastern Virginia; by 1862 Captain Kennicott, "tired of the pomp and circumstance of the war," resigned his position. He returned home, married Mary Seley, and following his father's death in 1863 ran the family nursery business, pursuing his passion for flowers and horticulture. In 1881 he convinced his younger brother Flint (who'd been traveling with a theater company and Buffalo Bill's Wild West Show) to join him in starting the first wholesale nursery supplying florists in the Midwest, Kennicott Brothers Company of Chicago. The firm is still in business today, run by Amasa's great-grandson Harrison and now employee-owned.
Once the firm was established and successful, Amasa (now known as the 'peony king' in Chicago) returned to the Grove with 30 acres devoted to that favorite flower. He grew irises as well, and though 'Fairy' was introduced to the Chicago nursery trade in 1905 by William Peterson, the American Iris Society in 1929 and 1939 listed "A. Kennicott (1880-1900)" as the breeder. In spring of 1907, having just bought some new peony varieties and finding himself on his deathbed, Amasa reportedly said "Well, boys, I wish I could have stayed long enough to get those peonies started." The homestead is now a National Historical Landmark with nature trails and an Interpretive Center along with a variety of historic buildings.
As Mahan concludes, "There is a common saying among members of the American Iris Society that those who grow irises tend to be kind, generous people. Perhaps the mold was set by the first man to breed a popular garden iris in America." We're glad to know about his life and family! (If you'd like your own copy to explore even more tales of horticultural heroes, our friends at the Historic Iris Preservation Society still have copies available here.