When our good customer Jane Baldwin of zone-6a Moreland Hills, Ohio, found herself with surplus bulbs late one fall, she improvised an easy solution that ended up delighting her.
"A couple of years ago," she writes, "I got caught by early snow so I planted the last of my daffodils in baskets. It looked fabulous and I highly recommend this to anyone, even if you're not in the same predicament. In fact, it's how I'm planting most of the daffs I ordered from you this fall.
"The baskets were just ones I found in the garage when we moved in. [If you don't have any in your garage, thrift shops often sell them for a dollar or two.] They were nothing fancy, older and seasoned by years of use, approximately 6 inches deep and 1-3 feet across. I put a few inches of good potting soil in them and then planted the bulbs right smack against one another with their tips just barely covered by the soil. Smaller-flowered varieties such as 'Thalia' and 'Niveth' went in the smaller baskets and bigger ones such as 'Beersheeba' and 'Carlton' in the bigger baskets.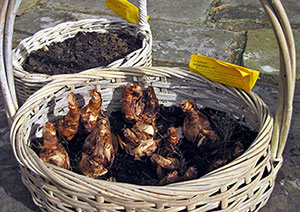 "I put them in our attached garage so they would get the necessary cold, and made sure that mice couldn't get to them. I watered them at first but eventually the soil froze. At the end of winter when it started to thaw, I brought the baskets out on the patio to a sunny spot where they bloomed to perfection. Even though there were only 2-3 inches of soil under the bulbs and they were planted right next to each other, they performed just fine and looked exquisite in the baskets for a good long time. It was really very easy, and even our chipmunks and squirrels left them alone out there.
"At the end of spring I took the bulbs out of the baskets and kept them dry over the summer in the garage. Now they are planted on a hillside along my driveway where they continue to bloom beautifully – and every fall I plant more in baskets."