Mount Vernon's head gardener Tatiana Lisle visited us last month, and along with gifts of home-made soap (including "Honey and Yogurt" with honey from her backyard hives, and "Hempalicious" with . . . well, we were afraid to ask), Tatiana also brought us a couple of wonderful new books.
If you're a foodie I'm sure you'll enjoy the fascinating Dining with the Washingtons — with recipes for everything from and fairy butter and salamongundy to cherry bounce — and if you're a gardener I highly recommend The General in the Garden.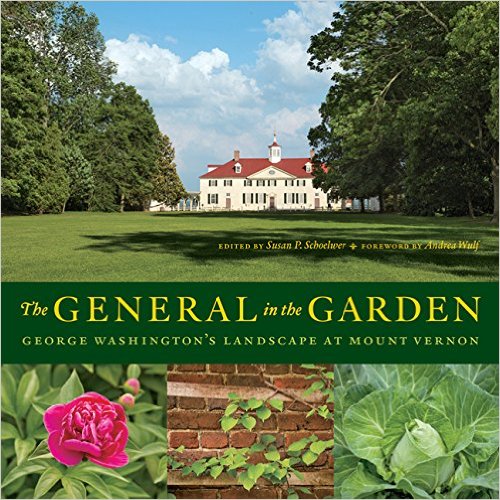 Although beautiful enough to be a coffee-table book, The General in the Garden is also rich in information. At its heart are three chapters exploring Mount Vernon's landscape history. The first tells of Washington's dramatic redesign of his estate after the Revolutionary War. The second details the ever-changing restoration of the landscape from 1860 to 2005. And the third details the meticulous research and archaeology that led to the recent recreation of the Upper Garden — which for most of the 20th century was a formal rose garden — into three enormous, utilitarian vegetable beds bordered by relatively narrow flower beds. The book concludes with a historical guide to everything from "Greenhouse and Slave Quarter" to "The Lost Deer Park" along with lists of plants grown at Mount Vernon during Washington's time.
As one of the most important American landscapes to survive from the 18th century, Mount Vernon has long deserved a book of this caliber. Whether you simply page though it enjoying the illustrations or read every word including the footnotes, The General in the Garden will give you a deeper appreciation for this extraordinary landscape, for the difficult art of landscape preservation, and for Washington himself, a man who was not only the father of his country but a gifted landscape designer and an unabashed tree-lover.