If you're not reading Margaret Roach's A Way to Garden, you're missing something special. Margaret's combination of what she calls "horticultural how-to and woo-woo" have made hers one of the most popular garden blogs.
And Margaret appreciates the pleasures of the past. In 2007 she left her job as Editorial Director of Martha Stewart Living and moved to an old farmhouse in rural New York that she's been restoring and filling with all sorts of beautiful things, from antique typewriters to pressed seaweed. (Take a peek at apartmenttherapy.com.)
So naturally I was thrilled when Margaret asked me to talk with her recently about heirloom bulbs, especially dahlias. You can listen to the podcast of our 24-minute chat anytime you want, or read the condensed version of it at her blog.
She starts by calling me "Mr. Heirloom Bulb himself" – which I'm pretty sure she meant as a compliment – and then asks me to explain my "anthropological passion for these exceptional plants," how my definition of heirlooms has changed over the past 30 years, why I like growing dahlias, and more. In the course of our talk I learned that she "particularly loves" dark-leaved dahlias such as 'Bishop of Llandaff' and that her favorite antique iris is 'Gracchus'.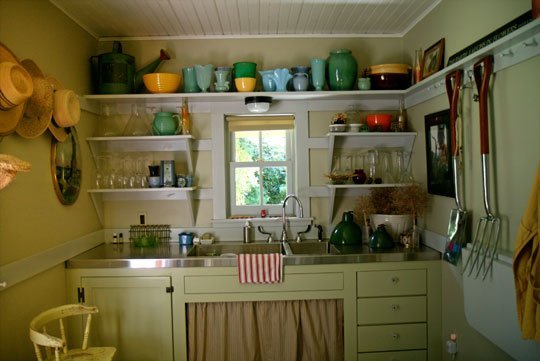 Margaret's pantry/garden room.
There's a lot of excellent how-to at Margaret's blog, and unusual plants, and recipes, and even frogs, but her greatest strength, I'd say, is that she enjoys exploring the deeper connections and meaning in gardening, nature, and life. One recent example is her heart-felt remembrance of Jack, the cat who walked out of the woods and into her life on 9/11. If you're an animal lover, especially, you won't want to miss it.