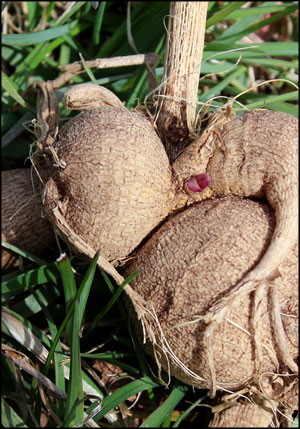 pink sprout growing from crown
Although virtually everybody calls them tubers, we recently learned that dahlia tubers aren't really tubers. In a letter to American Gardener magazine, University of Nebraska horticulture professor Paul Reid explains:
"Once again I write to chide your authors and editorial staff for misapplication of the word 'tuber.' It should never be used for referring to the fleshy underground structures of dahlias, sweet potatoes, and probably not for daylilies. . . . They are not tubers!
"Tubers are underground stems, with nodes, internodes, and buds – the 'eye' of the potato tuber, for example. Tuberous roots are simply roots that are modified for food storage, but are decidedly not stem tissue."
He's right. Dahlia eyes sprout from the crown which connects the stem to the swollen storage roots. If a root breaks off without a piece of the crown, it can never sprout because it has no eyes.
Don't worry, though. Even the American Dahlia Society calls them tubers, so it's okay for you do the same. Informal language is often different from scientific language, and if you start calling your dahlias "tuberous roots" you'll just annoy your friends.
But facts matter, and now you know.