The Astonishing Gardens (and Bulbs) of Alcatraz
Like most people, I had no idea that flowers ever grew at The Rock – until 2009 when an order for dahlias and glads arrived here from that infamous island in San Francisco Bay.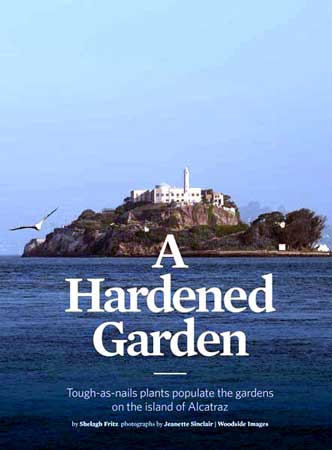 Alcatraz, I soon learned, has a long, complex history, and gardens have been there for most of it. Some were public plantings tended by prisoners while others were the home gardens of the warden and guards who lived there with their families.
In early March I spent an afternoon walking Alcatraz with Dick Miner, a long-time volunteer who's been helping to bring its gardens back to life after 40 years of abandonment. Dick talked about the herculean effort to clear decades of weeds and overgrowth and the excitement of rediscovering paths, retaining walls, and a surprising array of garden plants that survived amid the ruins.
"Bulbs were a favorite garden plant of the island's residents," Alcatraz's director of gardens Shelagh Fritz wrote recently in Horticulture magazine. "Many bulbs originate from other Mediterranean regions and therefore find great success here – a happy coincidence since soldiers and guards simply brought their favorite garden plants with them to Alcatraz" – including daffodils, freesia, Spanish bluebell, snowflake, and grape hyacinth. "When we cleared the overgrowth from the gardens, these bulbs came back to life after lying dormant for decades."
Dahlias and glads appear in historic photos of Alcatraz, and Shelagh, has ordered many of ours to replant there including 'Andries Orange', 'Clair de Lune', 'Kaiser Wilhelm', 'Old Gold', and 'Thomas Edison' dahlias, and Abyssinian, 'Bibi', 'Boone', 'Carolina Primrose', 'Contentment', 'Dauntless', 'Fidelio', 'Friendship', 'Lilac and Chartreuse', 'Melodie', 'Spic and Span', and 'Starface' glads.
To learn more about this fascinating place, here's Shelagh's article about it from the Jan.-Feb. 2016 edition of Horticulture. For even more, go to AlcatrazGardens.org. And if you're one of the 1.5 million people who will visit Alcatraz this year, don't miss the garden tour!
Click on any page below for a larger, readable version.