Three hundred years ago what is now the "arty cool" East London neighborhood of Spitalfields was a tiny village and the center of England's booming silk industry.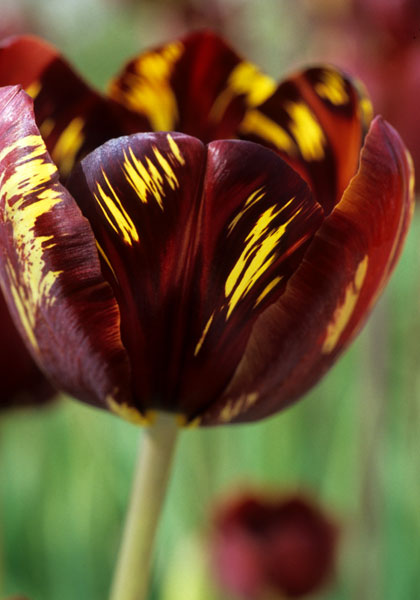 one of the tulips the weavers could have grown in their gardens,
'Absalon'
, from 1780
According to an 1840 article in the Manchester Guardian, Spitalfields got its start in 1685 when, fleeing religious persecution, "at least 50,000 refugees, most of them weavers and other craftsmen, arrived from France and threw themselves upon the charity of the English nation." Known as the Huguenots, these refugees were soon "very flourishing" and by 1713 the silk trade they established "had attained such importance that upwards of 300,000 persons were maintained by it."
By the time the article was written in 1840, Spitalfields was "in a greatly fallen-off condition", but it still retained "a remnant of the love of gardening among the weavers." A six-acre plot whad been divided into 170 small gardens, all bounded by picket fences, and "in almost every garden is a neat summerhouse, where the weaver and his family may enjoy themselves on Sundays and holidays, and where they usually dine and take tea." (Doesn't that sound lovely?)
Although some weavers grew "cabbages, lettuces, and peas," most had "a far loftier ambition" – flowers. "Many had tulip beds, in which the proprietors not a little gloried, and over which they had screens which protected them from the sun and from the storm" – to keep the blooms in prize-winning shape for the tulip shows – "and it was expected that the show of dahlias for that season would not fail to bring glory to Spitalfields."
Although, alas, all of the dahlias from that era are now extinct, you can still grow some of the very same tulips that were popular in 1840 such as 'Absalon', 'Keizerskroon', and 'Zomerschoon' – and you don't have to be a silk weaver to enjoy them.
(You might also enjoy the book this article is drawn from, Notes from the Garden: A Collection of the Best Garden Writing from the Guardian, 2010, edited by Ruth Petrie.)