Tiger lilies were Frank Lloyd Wright's favorite flower, and he grew masses of them in the gardens of Taliesin, his spectacular Wisconsin home and studio.
Jessica Tripalin, Cultural Landscape Coordinator at Taliesin, emailed us earlier this summer saying, "The 50 tiger lilies you sent us last fall look amazing in the gardens here."
"The preservation crew is aiming to restore the entire estate to the year Mr. Wright passed," she continued. "Our goal is to attain the look and feel of 1959. I am so happy with the results in the gardens this year. Thank you so much for your beautiful plants!"
Jessica also sent us this photo of a few of our tiger lilies blooming in front of one of Taliesin's massive stone chimneys and the intricate iron-pipe trelliswork that Wright designed for the gardens.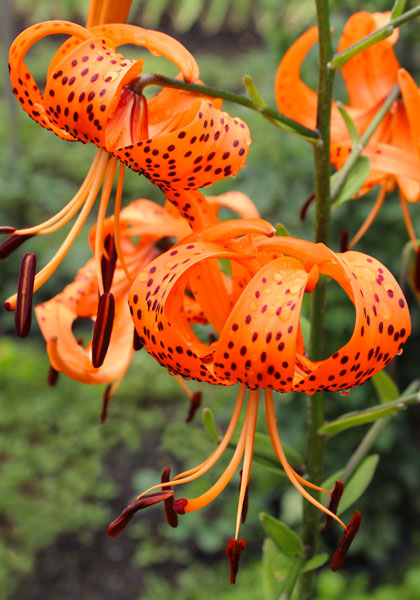 Tiger lilies are native to Japan and were frequently depicted in Japanese art. It's easy to see how their simplicity, grace, and drama appealed to Wright, and no doubt they also reminded him of the months he lived in Tokyo while overseeing the construction of his early masterpiece, the Imperial Hotel.
To learn more about Wright's gardens, read our review of Derek Fell's The Gardens of Frank Lloyd Wright.