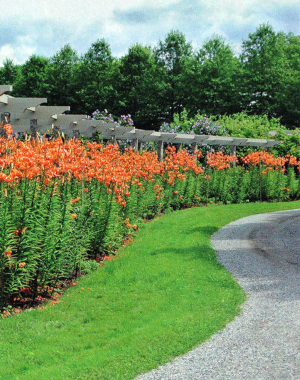 Some gardeners shy away from orange, but not Martha Stewart – as you can see in this photo from the July-August 2019 Martha Stewart Living.
That's the driveway to Martha's home in Bedford, New York, flanked by a 300-foot-long pergola. Wisteria and clematis drape the pergola and along its sides are six-foot-wide borders filled with crocus, grape hyacinths, alliums, and various perennials in shades of "mauve, lavender, violet, purple, and blue."
But Martha wanted more color and a longer bloom season, so first she "sprinkled in a few kinds of orange poppies" and then she planted hundreds of tiger lilies (Lilium lancifolium). Now "just as everything else begins to fade", the lilies "explode into fat rows of tall, sturdy stems" and then "unfurl their spotted petals at the end of July, transforming the border into a sweep of orange."
See more at themarthablog.com/2018/08/my-blooming-lily-border.html – and then if you want to see what a little orange can do for your mid-summer garden, order a few of these easy, enduring lilies now for planting this fall.