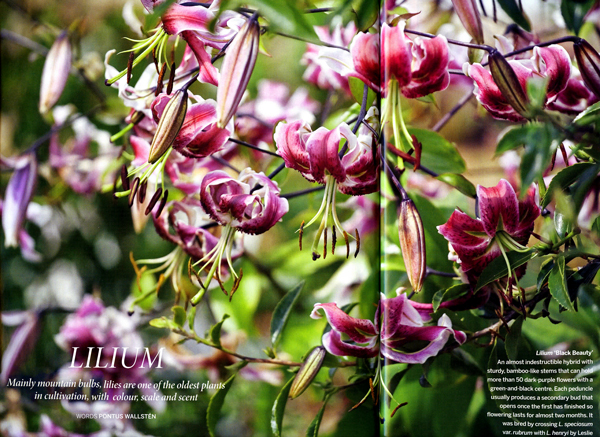 It's lily season! The martagons are blooming here in our Ann Arbor gardens, along with the last of our iris and masses of peonies. Coral lilies will be next, and then regal lilies, Madonna lilies, and on and on well into August.
To help you decide which of these dramatic flowers to add to your garden, here's what Swiss lily expert and nurseryman Pontus Wallsten had to say about eight of ours in the January 2018 issue of Gardens Illustrated.
In order of bloom-time: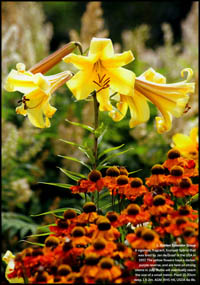 'Golden Splendor', 1957
'Golden Splendor' – "A vigorous, fragrant trumpet hybrid. The yellow flowers have a darker, purple reverse, and are held on strong stems. Bulbs will eventually reach the size of a small melon. RHS AGM."
Coral lily – "This little gem has a spicy fragrance." (Spring-shipped.)
Regal lily – "By the wall of my house is a small clump of bulbs that have flowered faithfully for the past nine years, filling the summer air with the sweet scent of jasmine, and requiring no particular effort on my part. RHS AGM."
'African Queen' – "Fragrant, vivid-orange flowers. Very vigorous and long-lived, it is happy in any well-drained, humus-rich spot in full sun or afternoon shade. RHS AGM."
'Pink Perfection' – "A superb trumpet hybrid that produces big, highly fragrant flowers in July. It is very disease-resistant and will thrive in any well-drained spot in full sun or afternoon shade with very little care. RHS AGM"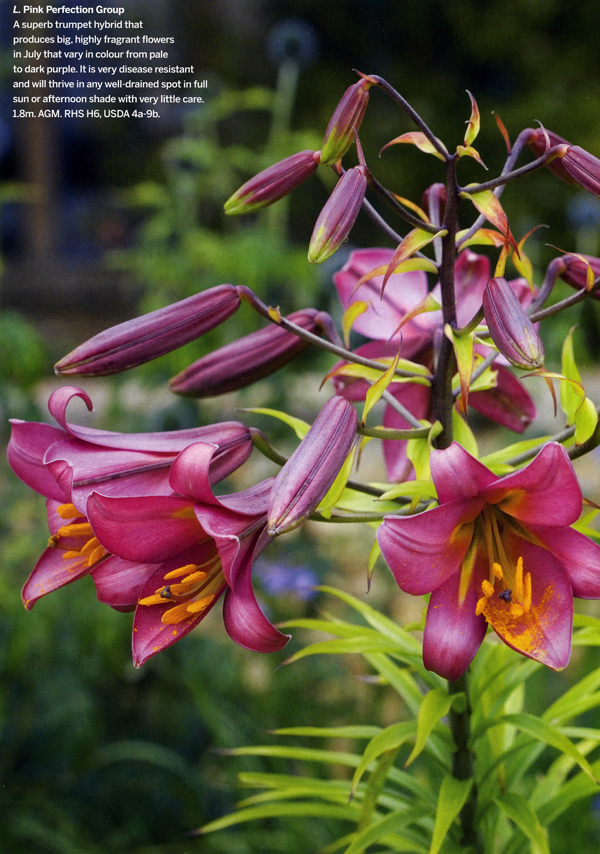 'Pink Perfection', 1950
Henry's lily – "A vigorous and long-lived species, producing 40 flowers or more, July to August. Best in part shade as color can fade in full sun. Stems can arch towards light, so may need staking. RHS AGM" (Spring-shipped.)
Gold-band lily – "Produces some of the largest, most fragrant flowers of any lily." (Best in acid soils.)
'Black Beauty' (pictured at top) – "An almost indestructible hybrid with sturdy, bamboo-like stems that can hold more than 50 dark-purple flowers with a green-and-black center. Each peduncle usually produces a secondary bud that opens once the first has finished so flowering lasts for almost two months."
We hope this helps. Order now for delivery at planting time – and next summer you'll be raving about them yourself!