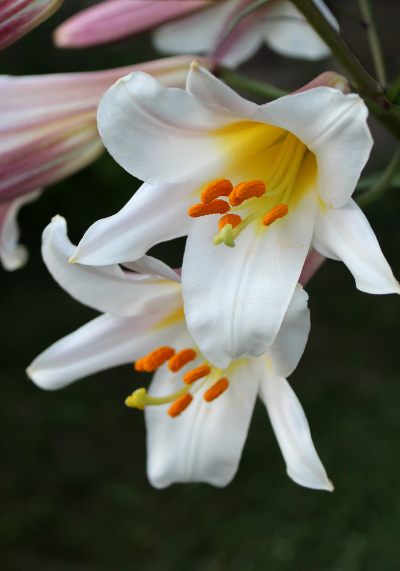 "There are few plants as rewarding and foolproof" as bulbs, Dan Cooper wrote recently at his Frustrated Gardener blog. Most are "bold, colorful, long-flowering, and best of all inexpensive, giving gardeners plenty of bang for their buck. In short, they are one of the plant world's best investments."
Regal lilies are one of Dan's favorite summer-flowering bulbs.
"Here's a bulb with class, elegance and history," he writes. "No wonder it was named Lilium regale, the regal lily. It was introduced to England from China in 1903 by Ernest Henry Wilson and quickly became a favorite of Gertrude Jekyll, who used it prolifically in her garden designs at a time when it would have been quite a novelty.
"Jekyll would frequently plant large clumps of Lilium regale in strategic spots, creating height and drama at pivotal points in her schemes. In addition to stature, the lilies also contributed intoxicating scent and blushing white flowers that stood out well against dark foliage. . . ."
"There is no flower so exquisite as Lilium regale at dusk on a warm June evening, glowing in the gloaming and sharing its intoxicating perfume," Dan writes in closing. "Plant plenty, and then plant some more.
We couldn't agree with him more! To enjoy these intoxicating beauties in your own garden, order now for delivery at planting time this fall.