As I struggled to describe the intriguing color of 'Red Velvet' lily, a friend made the connection for me. "It's like red velvet cake," she said, and it is: red shaded with cocoa.
For a recipe we turned to one of our favorite cooks, our former trial garden manager Matthew Scott. Though his old family recipe makes a cake that's actually a bit brighter than 'Red Velvet', if you use two tablespoons of cocoa instead of one, it's close to a perfect match.
---
Red Velvet Cake
This is my Grandma Opal's recipe. She used to make it for my dad's birthday when he was growing up in central Indiana, and I made it again for my dad's 60th birthday last summer. It's an older recipe, so the layers aren't gargantuan like many of today's recipes.
Who doesn't love a bright red cake? With a white icing it's pretty spectacular. And you can always dress it up with sliced strawberries or blueberries between the layers, or top it with blueberries for some Fourth of July fun!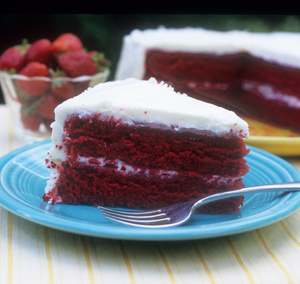 luscious Red Velvet cake
2 eggs
½ C butter/lard/shortening
1 ½ C sugar
In large bowl, cream the above ingredients together well.
2 C flour
½ tsp salt
1 T cocoa (many versions call for 2 T cocoa)
Sift together above ingredients 3 times.
1 C buttermilk
2 oz. red food coloring (yes, that's a lot!)
Mix above ingredients together.
Alternately add buttermilk/food coloring mixture and dry ingredients to shortening/sugar/eggs mixture and beat well.
1 tsp baking soda
1 T vinegar
Stir a bit and then add to mixture above.
Grease and dust 2 9-inch cake pans and bake at 350 degrees for 30-35 minutes and test with toothpick.
Frost with cream cheese frosting or 7-minute frosting. Lots of people use cream cheese frosting, but I found that the 7-minute frosting was a great light and fluffy frosting to use. And it was a hit at my dad's 60th birthday party. My dad said grandma used to make it with fluffy white icing, but since Opal's no longer with us and didn't share her frosting recipe, I improvised.
7-minute Frosting (from The Joy of Cooking)
Have the egg whites at room temperature, 68-70 degrees.
Whisk together in a large stainless-steel bowl:
5 T water
¼ t cream of tartar
1 ⅓ cups sugar
2 large egg whites
1 T light corn syrup
Set the bowl in a wide, deep skillet filled with about 1 inch of simmering water. Make sure the water level is at least as high as the depth of the egg whites in the bowl. Beat the whites on low speed until the mixture reaches 140 degrees on an instant-read thermometer. Do not stop beating while the bowl is in the skillet, or the egg whites will be overcooked. If you cannot hold the thermometer stem in the egg whites while continuing to beat, remove the bowl from the skillet just to read the thermometer, then return the bowl to the skillet. Beat on high speed for 5 minutes. Remove the bowl from the skillet and add:
1 t vanilla
Beat on high speed for 2 to 3 minutes more to cool.
Use the day it is made.
You can also stir in 1/2 to 1 cup chopped nuts or shredded sweetened dried coconut after the frosting has cooled.
If you're making this in the middle of summer with high humidity and no air conditioning as I have, you may need to beat the frosting a bit more than the recipe calls for.
Enjoy!
To return to our 'Red Velvet' lily description, click here.