Underappreciated Henry's lily is one of my favorite lilies, so I was happy to see it featured not once but twice in the September 2017 issue of The English Garden.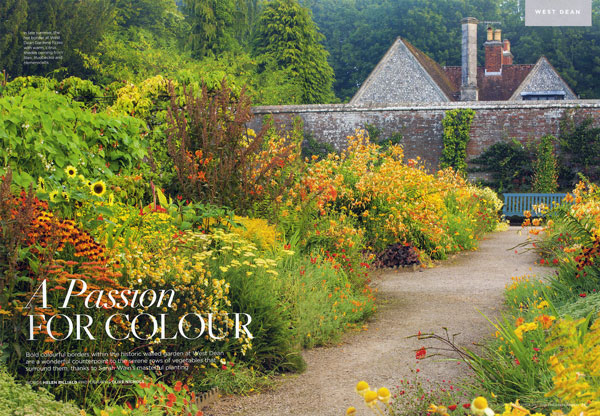 In the gardens at Lamport Hall in Northamptonshire, "history and heritage meet modern planting techniques" inspired by Piet Oudolf. There "the soft orange flowers of Lilium henryi are used abundantly throughout the herbaceous borders," combined with great swaths of hollyhocks, agapanthus, and American natives Joe Pye weed and Rudbeckia.
Henry's lily also plays a major role at West Dean Gardens, a "formidable horticultural powerhouse" in West Sussex. This glorious two-page photograph of the historic walled garden there shows it blooming exuberantly (center and right) in the Hot Border which "smolders across the length of the kitchen garden's greenery."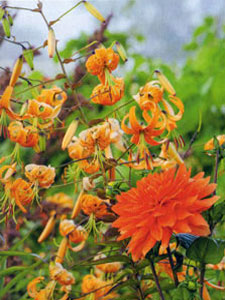 Henry's lily with 'David Howard' dahlia
Henry's lily "grows like stink and is a real good do-er," says gardens supervisor Sarah Wain. It's one of the "stalwarts" of the border, along with "heleniums 'Butterpat' and 'Moerheim Beauty', daylilies, Solidago [goldenrod], Sedum, Heuchera 'Palace Purple', Potentilla 'Gibson Scarlet', and Rudbeckia fulgida."
California poppies, nasturtiums, and 'David Howard' dahlia also figure prominently in the Hot Border, along with Crocosmia 'Lucifer' As luck would have it, I planted a clump of 'Lucifer' next to the Henry's lilies in my backyard this summer, and though it may not have been West Dean's Hot Border, they did look great together.
To give this wildflowery, easy-growing lily a try in your garden, order a few now for spring planting!