The right companion can make any plant look better. For bearded iris, here are a few suggestions from two of America's greatest garden writers.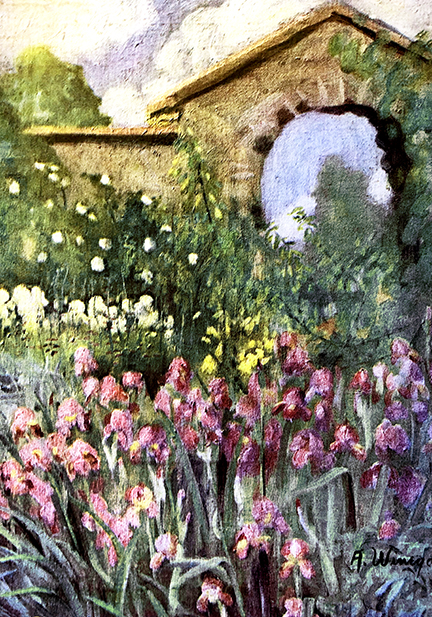 iris & companions in Wilder's 1918 Color in My Garden
For June borders that are "a joy indeed," Louise Beebe Wilder in her 1916 My Garden recommends intermingling iris with "tall blue and white lupines, lemon lilies [Hemerocallis lilioasphodelus], foxgloves, and peach-leaved campanulas, with a background of Persian lilacs and such free-growing roses as 'Stanwell's Perpetual', 'Madame Plantier', and the yellow briers – 'Harisoni' and the Persian – and edged with double white pinks and Nepeta mussini [catmint]."
John Wister in his 1930 The Iris recommends some of the same plants and adds to the list: "Good garden combinations can be made with a background of Spirea 'Van Houttei', Philadelphus coronarius [mock orange], and kerria with lavender iris [such as 'Pallida Dalmatica'] and salmon pink Oriental poppies.
"Pink iris [such as 'Caprice'] and 'Queen of May' go equally well with this. Gypsophila [baby's-breath] statice, clove pinks, Nepeta mussini [catmint], Anchusa [Italian bugloss], and lupines are but a few of the many plants that gardeners have used successfully with various irises."
With their smaller flowers and rugged constitutions, heirloom iris often combine more harmoniously in gardens than modern cultivars do. We're shipping a dozen of the best for planting in April, and now is the time to order!