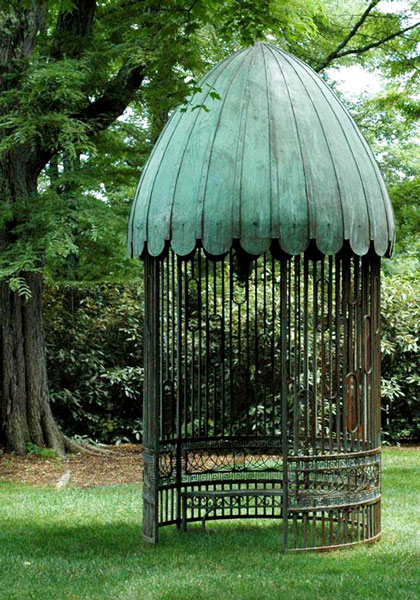 Garden antiques are increasingly popular – and I'm not just talking about "shabby chic" garage sale finds.
No one knows this better than Barbara Israel, the country's leading source for high-end garden antiques. With customers ranging from Yoko Ono to the Smithsonian Institution, Israel currently offers such choice items as a terra-cotta Art Moderne greyhound for $3500, a Victorian fern-patterned cast-iron bench for $8500, and – at the top of my wish list – a 15-foot-tall copper-roofed garden pavilion for $55,000.
Israel has been selling garden antiques for over 30 years from her home in Westchester County, NY. There, as Therese Ciesinski writes in the winter 2017 issue of Garden Design, her lush gardens are filled with "a frozen menagerie of more than 200 maidens, warriors, animals, fountains and birdbaths, urns and obelisks, gates, finials, and follies. They are a reminder that strolling one's garden to contemplate nature, history, and art is still a worthwhile pastime."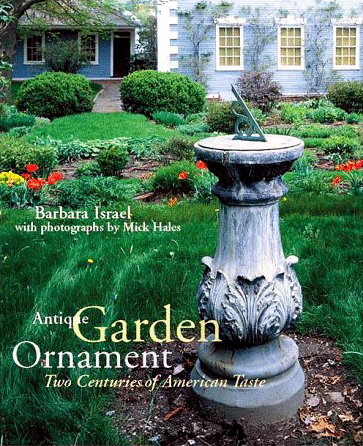 Israel has written two fascinating and highly regarded books: the ground-breaking Antique Garden Ornament: Two Centuries of American Taste (1999) and the very helpful Guide to Buying Antique Garden Ornament (2012).
Her quarterly newsletter "Focal Points" is also excellent, with articles on "different types of garden ornament, specific makers, design suggestions, conservation," and remarkable gardens, or for something lighter you can follow her on Facebook.
To browse her current inventory – which is much more than what's pictured at her website – go to decaso.com/shop/xn5iii. Even if you can only dream of spending thousands of dollars on garden antiques, I think you'll find it richly rewarding.