Like most people, I never thought about plants and gardens having a history – until almost 40 years ago when I bought my first old house and walked out into the tiny yard eager to make it my own.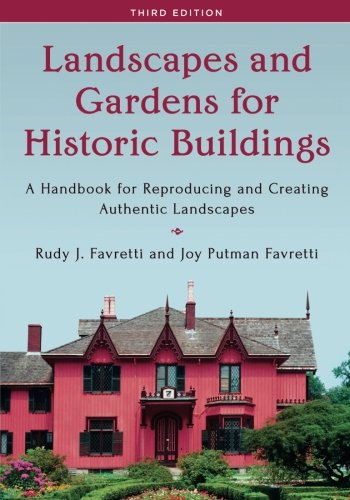 There behind the overgrown privet hedge, I discovered a few barely surviving plants, including a white, single-flowered peony. Suddenly I realized it wasn't just my yard. Someone else had loved it before me. But who, and when? Was the peony ten years old, or 50, or 100? And what about the hedge?
Looking for answers proved frustrating at first. This was back in the dark ages – before Google. But finally I discovered this book by Rudy and Joy Favretti – or rather the original, 1978 edition of it – and I was no longer wandering in the wilderness.
I've been using and recommending it ever since, and as I say on the back cover of this updated and expanded third edition, "Bravo! A new edition of this indispensable work has been long overdue. It's the original guide to researching and restoring American home landscapes, by the dean of American landscape preservation. For decades, savvy home-owners and museum sites have turned to it for guidance – and now, with its many updates and additions, it's better than ever."
Although the core of it is unchanged, Rudy and Joy have added illustrations and updated information throughout. Best of all are the additional examples from their long careers, including a page on the archaeological excavation that revealed the long-vanished, mid-1600s garden at Bacon's Castle in Virginia.
If there's an old yard you care about, Landscapes and Gardens for Historic Buildings is the book for you. It may not change your life the way it did mine, but it will certainly help you see any yard – and the wider landscape all around us – with new eyes.