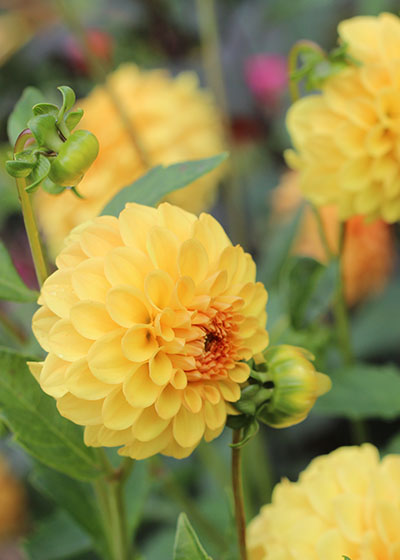 'Golden Scepter' dahlia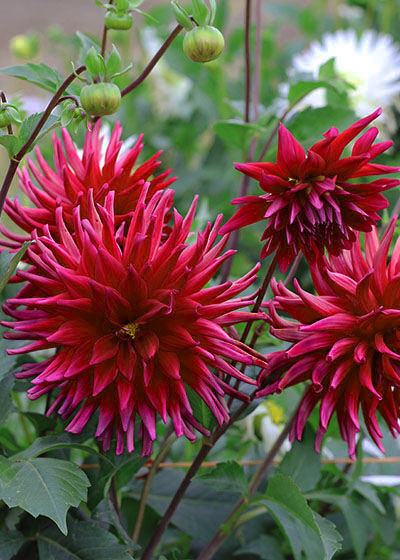 'Juanita' dahlia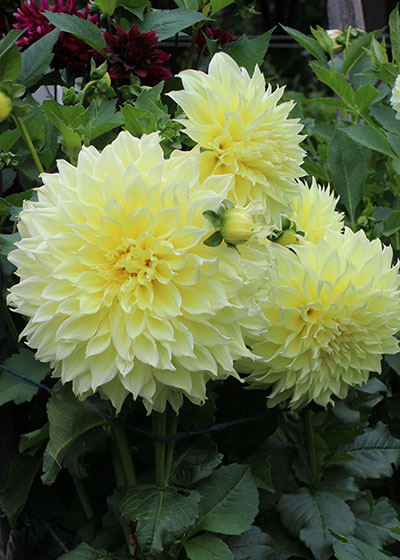 'Kelvin Floodlight' dahlia
Dahlias can be glorious landscape plants, providing bursts of colors in the late summer and early fall when much of the garden is slowing down, while some varieties are especially popular for bouquets to enjoy indoors. As we get ready for spring here we've been talking about which dahlias we can't wait to see bloom again or want to try for the first time and thought we'd share them with you in case you're new to dahlias - or looking for something different- and would like our suggestions. There's such variation in color, form, and size that there's bound to be something to suit your particular tastes.
Vanessa, OHG's owner and head researcher of old varieties, says "I'm always a big fan of varieties where no two flowers are the same. You can cut 10 flowers from 'Tartan' and the burgundy and white combination can vary considerably through the bunch. This can also be true for 'Nita', although usually less so. There are sometimes so many petals on a 'Nita' flower it can look like a ball of petals! I recommend 'Golden Scepter' because it groups well with all varieties and is one of our most floriferous varieties."
Justin, who is our technical wizard and website-designer, all while studying to graduate nursing school this spring (!), mentioned three different favorites: 'Little Beeswings', 'Juanita', and 'Kelvin Floodlight'. He reports that "'Little Beeswings' paired wonderfully next to my up-and-coming rose patch with its similar colors and size of blooms. 'Juanita' was the first dahlia I ever grew. The shades of maroon and crimson are very elegant and look great in my kitchen, so it's a keeper!" His third pick is 'Kelvin Floodlight' which "was just shockingly large and bright the first time I held one in my hand. I remember staring at it and studying the intricate arrangement of florets for far too long. Inspecting the stems you'll see the plant is built to handle them too" and concludes "My love and appreciation for flowers stems from their attractive look and the vital role they play in keeping us all alive."
Meanwhile Rita, our office manager and one-who-keeps-everything-on-track, is a champion for 'Amber Queen', for once it "starts to bloom you'll have non-stop flowers until the frost. The blossom size is perfect for a small vase on a nightstand. The color blends with almost every flower. It's lovely in summer bouquets but really grows into a star during the fall. I love to arrange it in small pumpkins and share as a gift with friends." 'Requiem', Rita says, is "a statement flower for sure – bold, bright and beautiful. She loves that "the color is so highly saturated, and it's gorgeous with 'Plum Tart' gladiolus. The stems are long and strong, making it great for cutting – 'Requiem' is part of my kitchen table bouquet all summer long." Her last choice is the bold 'Thomas Edison', enthusing "I've worked here for 18 years and 'Thomas Edison' is one that I recommend highly! It is a reliable and strong plant with sturdy stems and flowers that hold up for a long time in the vase. The color is striking and it is just as nice in the garden as it is in bouquets. It blooms so abundantly throughout the season that you will have enough to share!"
Amelia, who comes in for shipping season to check orders and keep them flowing to the barn for packing, wanted to draw your attention to 'Andries' Orange', which "is a glorious star-burst of radiant orange that catches my eye from across the yard! It's got great stems for cutting and I love how the spiny petals contrast with the smooth ones of other varieties." She says she's "thrilled to see 'Nepos' available this year – I think it's such a beautiful combination of white, pink and lavender! I love it in a vase or out in the garden and grow it every chance I get." Amelia has kept bees for years and "wouldn't be without 'Bonne Esperance' because it starts blooming early, keeps going reliably through frost and has simple open flowers that make it a bee favorite."
Still can't decide? You can't go wrong with either of our 'Endless Bouquets' and 'Dreamy Dahlias' samplers - they combine some of our most popular varieties and let you save some money at the same time.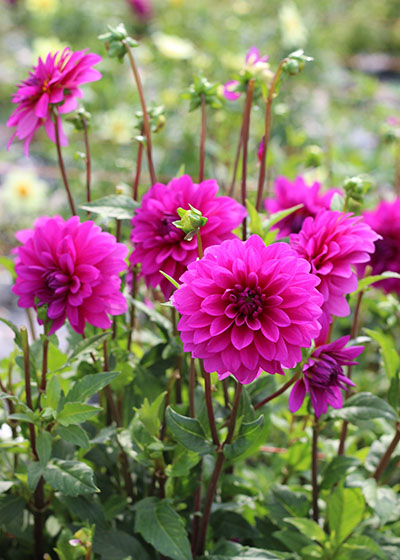 'Requiem' dahlia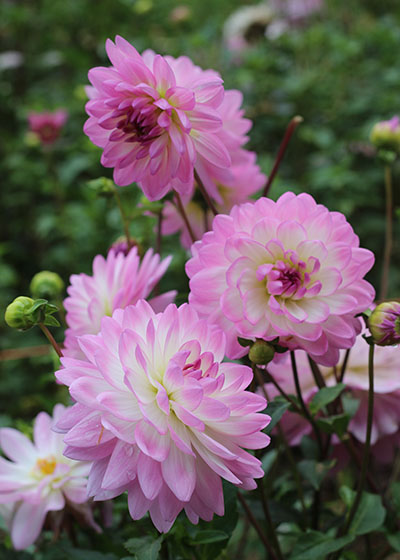 'Nepos' dahlia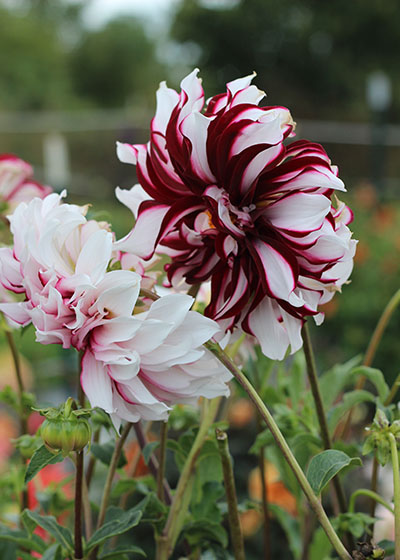 'Tartan' dahlia