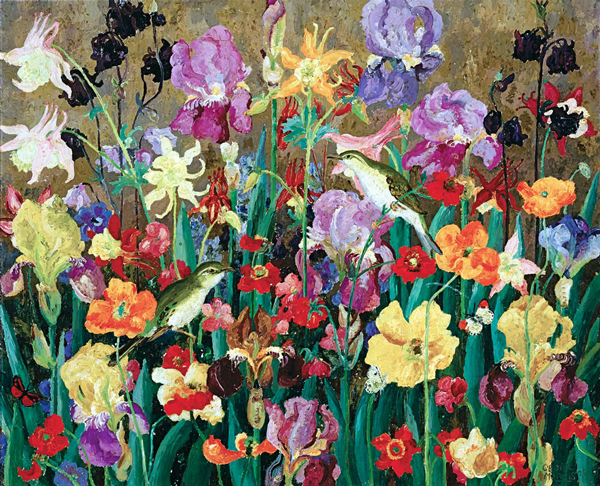 Appreciation continues to grow for artist and iris breeder Cedric Morris whose peachy-pink 'Edward of Windsor' sold out early for us this past spring.
In London, two exhibits of Morris's work are drawing crowds. His landscape paintings are featured at the Philip Mould Gallery in "Cedric Morris: Beyond the Garden Wall," while his flower paintings are showcased at the Garden Museum in "Cedric Morris: Artist Plantsman." Celebrating Morris's creativity as an iris breeder, The Garden Museum exhibit was accompanied in season by a display of his iris organized by the celebrated garden designer Dan Pearson.
'Edward of Windsor'
Prices for Morris's paintings are skyrocketing – up 1,500% since 2014 according to a recent article in the London Telegraph. Last fall a couple of his landscapes from David Bowie's personal art collection sold for over $65,000 each, but that's small change compared to the prices being fetched by his flower paintings "which have raced ahead, like tulip mania." The record was set last August by July Flowers and Wood Warblers (pictured above) which a London gallery bought for $223,000 – and which is now being offered for just under $400,000.
Although Morris's paintings may be beyond the reach of most of us, his 'Edward of Windsor' iris is much more affordable. For an email alert when it's for sale again July 1 (along with the rest of our spring-planted bulbs), simply click the link now in our description of it online.