The spectacular bulb plantings at Holland's Keukenhof Gardens are internationally famous, but have you ever heard of the Instanbul Tulip Festival – where four times as many bulbs will burst into bloom this month?
"Istanbul sparkles in April," wrote Frazer Henderson in a recent newsletter of the Wakefield and North of England Tulip Society. "Brilliant splashes of color decorate public parks, streets, road verges, and traffic islands . . . as millions of tulips exuberantly announce the arrival of spring. Started in 2005, the city's Tulip Festival seeks to revive the flower's popularity and celebrate its contribution to Turkish culture. This year over 30 million bulbs – all propagated in Turkey – were planted.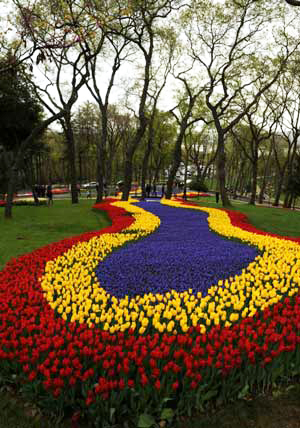 One highlight of last year's Festival was the world's largest floral carpet blooming in front of Hagia Sophia, the spectacular Ottoman cathedral built in 543. "Over 500,000 bulbs in . . . deep purple, red, bright yellow, and burnt orange were planted in a highly geometric design covering 1262 square meters. . . . A babel of exaltations . . . confirmed the carpet's awesomeness."
If you can't get to the Festival in person this spring, treat yourself to a virtual visit at http://howtoistanbul.com/en/istanbul-tulip-festival/5911#prettyPhoto. Click any of the tiny photos at the bottom of the article for a slideshow of many, many more. Enjoy!