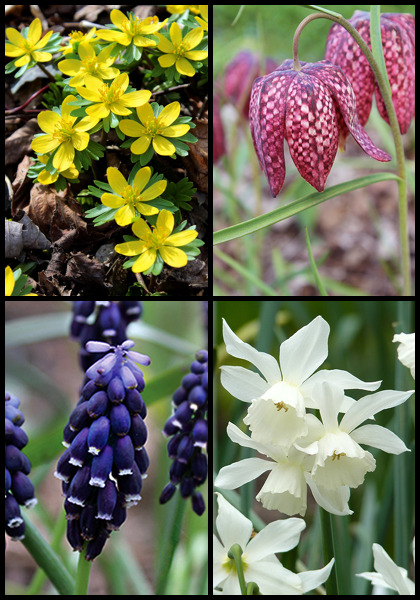 clockwise from top left: winter aconite, snake's-head fritillary, 'Thalia', Southern grape hyacinth
When Gardens Illustrated asked some of the UK's top garden designers to name their favorite bulbs for fall planting, these four heirlooms made the cut:
Winter aconite – "Despite its diminutive nature, this aconite packs a punch by being the first early bulb to flower," says Emily Erlam whose gardens blend seamlessly into the wider landscape. "Plant in large groups in shade or partial shade to make magical pools of rich yellow between trees or to throw up light onto a spring-flowering shrub."
Snake's-head fritillary – "The intricacy and complex beauty of the snake's head fritillary never ceases to amaze me," says Ula Maria, author of Green: Simple Ideas for Small Outdoor Spaces. "This most alien-looking plant is bound to attract everyone's attention. Its checkered, bell-shaped flowers look impressively oversized hanging atop slender stems. Naturalized in grassy meadows, they are simply magical."
Southern grape hyacinth (hardy NORTH through zone 5) – "I love everything about these plants," says Jinny Blom who often works on a grand scale but is also known as a keen plantswoman. "The crimped, navy-blue, white-tipped bells look as if they've been drawn by a child. It's best to naturalize them below small trees."
Narcissus 'Thalia' – "This pure-white, multi-headed daffodil is all elegance and fragility, but deceptively tough," says Andy Sturgeon who won the top prize at last year's Chelsea Flower Show. "The petals flare backwards, thrusting the trumpet forward. Wonderful in damp, partial shade among Anemone nemerosa," wood anemone.