"Gaining rapidly in popularity, daylilies are truly one of the most up-and-coming perennials we can choose for our gardens," wrote G. M. Fosler and J. R. Kamp in a nifty little 1954 booklet titled Daylilies for Every Garden. With its mid-century vibe, the booklet offers these tips for companion plantings:
"Daylilies are often planted with early bulbous stock, such as tulips and daffodils. The daylily foliage does not interfere during the blooming periods of these plants. Later in the season the maturing and unattractive bulbous foliage is hidden by the expanding lush daylily clumps.
"The earliest blooming varieties [such as 'Gold Dust', 'Sovereign', and 'Orangeman'] are effectively combined with bearded iris, the whites and the delightful shades of blue and purple in iris contrasting beautifully with the gold and yellow daylilies. The later daylilies . . . also make ideal garden companions for bearded iris and peonies. Daylily foliage does not grow very large until after the iris and peony blooming seasons are past. It is then that the daylily really comes into its own to continue the succession of color in the garden.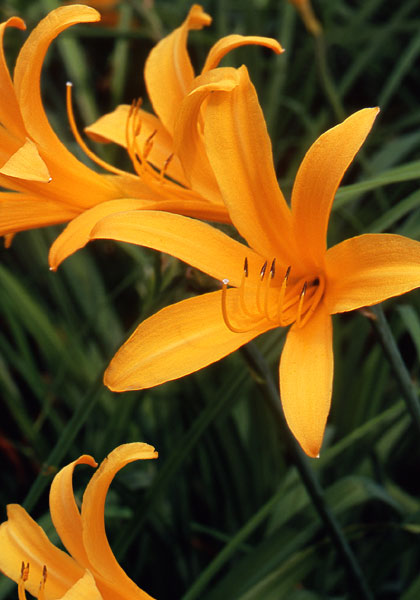 extra early
'Orangeman'
"For pleasing effects later in the summer, the artistic gardener will think of endless combinations. Some daylilies work in well with colorful phlox, columbine, and blue delphiniums. Purple liatris is very striking with yellow daylilies. Many daylily colors also harmonize pleasingly with Shasta daisies, floribunda roses, oriental poppies, platycodon [balloon flower], hardy lilies, and even fall chrysanthemums. Highly interesting foliage contrasts are also possible with such plants as canna, coleus, dusty miller, and hosta. . . .
"An all-season perennial border made up of tulips, iris, peonies, daylilies, and chrysanthemums will provide continuous interest from early spring until frost."
We're shipping all 18 of our heirloom daylilies right now, but please note that in a few weeks they'll be too large to ship safely, so if you want them, NOW is the time to order.