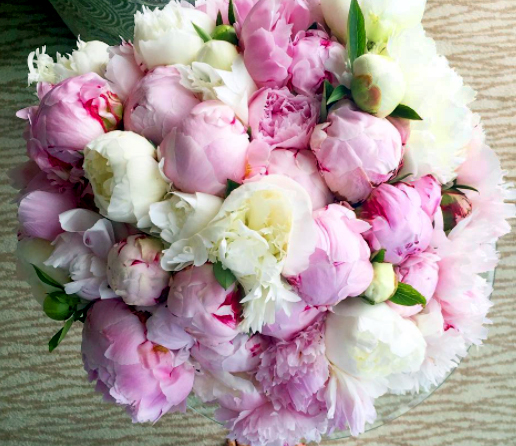 If you're still wondering what to send the Duke and Duchess of Sussex to celebrate the birth of baby Archie Harrison Mountbatten-Windsor, you might consider a big bouquet of peonies.
In case you missed it, peonies were featured prominently in the royal wedding last May. Meghan Markle has been a flower-lover since childhood – so much so that her mother's nickname for her was Flower – and according to the London Daily Mail, "peonies are Markle's favorite flower."
"After she started dating Prince Harry," the Mail reported, "she posted Instagram photos of a stunning bouquet of pink and white peonies [pictured here], captioning it: 'Swooning over these. #peonies #spoiledrotten'." Earlier she'd also posted "I bought these peonies for myself yesterday because they make me so endlessly happy. Do something sweet for yourself today too. #treatyourself #simplepleasures #favoriteflowers."
Will peonies make you "endlessly happy"? We can't guarantee that, but they are easy to grow, incredibly long-lived, and gorgeous. So why not "do something sweet for yourself today" and order a couple for planting this fall!