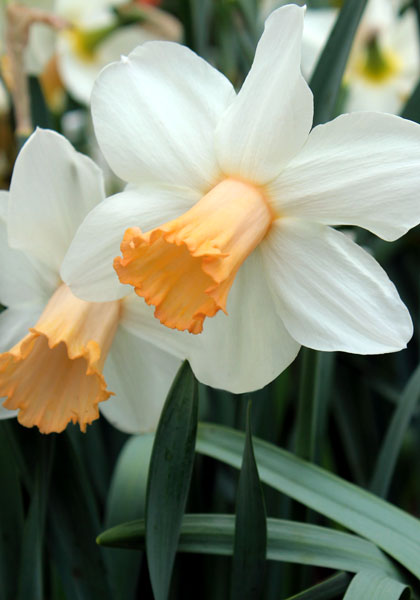 'Mrs. Backhouse' daffodil
Thanks to all of you who've emailed, called, or added a note to your order wishing me a happy retirement and thanking me for sharing our special bulbs with you. You've brought tears to my eyes and comfort to my heart.
Our long-time friend and supporter Betsy Ginsburg went above and beyond in a post at her wonderful blog The Gardener's Apprentice. She titles it "Saint Heirloom" – although my staff and family will tell you I am far from a saint. Even if you can't enjoy it as much as I do, Betsy is a great writer and always well worth reading.
Don't miss the paragraph that starts "I heard about Old House Gardens early on" in which Betsy talks about the "inspiration and solace" she's found in "the ivory petals of the elegant 'Beersheba' daffodil or the tender apricot trumpets" of her "favorite, 'Mrs. Backhouse'," and how in the face of tragedy our heirlooms have helped by reminding her of "eternal things – beauty, love, endurance and the endless cycle of the seasons."
Read it all here, and if you like it, type "bulb" or "history" in Betsy's search box to find other jewel-like posts to enjoy.